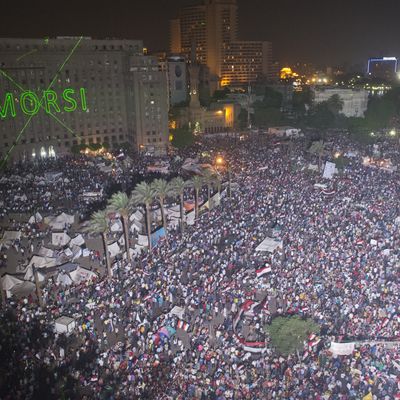 A laser display beams the words "Morsi — Game Over — Out" on a building in Tahrir Square as protesters rally on Tuesday.
Photo: KHALED DESOUKI/AFP/Getty Images
A day after the Egyptian military announced that Mohamed Morsi has only 48 hours to come to an agreement with protesters, the president made it clear that he has no intention of stepping down. In a rambling and impassioned midnight speech on state TV, Morsi blamed the massive unrest in the country on those loyal to his ousted predecessor, Hosni Mubarak, and told Egyptians, "Don't be fooled. Don't fall into the trap. Don't let them steal your revolution." After a day in which violence grew between protesters and Morsi's defenders, the president also made it clear that he won't give up his office without a fight. "If the price of protecting legitimacy is my blood, I'm willing to pay it," he said. "And it would be a cheap price for the sake of protecting this country."
Following calls from the Muslim Brotherhood to defend the legitimacy of the nation's first democratically elected president, tens of thousands of Morsi supporters took to the streets on Tuesday. Clashes broke out in several cities, leaving at least 23 people dead and dozens injured, according to the Associated Press. Six ministers have resigned during three days of massive protests, and early on Wednesday morning Morsi's cabinet rejected his remarks on Twitter. They accused him of "pushing the country toward a civil war," and said they're "taking the side of the people." 
In an attempt to dissolve fears that the military will stage a coup and plunge the nation into chaos, Egypt's generals elaborated on their "road map" for political stability in Wednesday's issue of the state newspaper. Per the New York Times:
Under the banner headline "removal or resignation," Al Ahram reported that the generals would "abolish the controversial constitution" and form a committee of experts to write a new charter; form an interim presidential council with three members led by the chief of the constitutional court; and put a military leader in charge of the executive branch as an interim prime minister.
The military reportedly anticipates a one-year transitional period before new presidential elections will be held. Their plans for Morsi remain unclear, and following his speech, the military matched his rhetoric in a Facebook post titled "The Final Hours." "We swear by God that we are ready to sacrifice our blood for Egypt and its people against any terrorist, extremist or fool," said the Supreme Council of the Armed Forces.