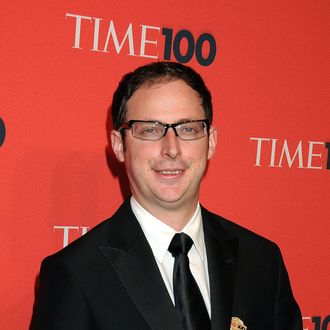 Statistician Nate Silver, offering some of his first public comments on his move to ESPN and its parent company Disney in a conference call with reporters, had little interest in discussing his reportedly strained relations with his former New York Times colleagues. Times public editor Margaret Sullivan wrote Monday that she didn't think  he "ever really fit into the Times culture," but given a chance to comment on that, Silver demurred: "I'm interested in running a website, building out a business here, and having my opportunity to weigh in on different topics. I'm not interested in who I'm getting a beer with. I have plenty of people in my social circles for that."
Silver specifically praised Times executive editor Jill Abramson during the call: "I had plenty of support, I felt, from Jill and other key people at the Times. I love the people at ESPN, but this culture stuff was not a big factor." Okay, so, co-worker drama aside, what's this new website all about? Silver said sports and politics would be key, but he offered few specifics.
Silver poured cold water on reports he's been guaranteed a role predicting the Oscars. "There have been such specific accounts of things that we might be doing or not that are completely wrong, and like things that we have literally never talked about in a dozen meetings, so it's an opportunity, but there are no plans," Silver said. Which is not to say he won't be involved in Oscar coverage — Silver started musing during the call on how one might crunch numbers to that end — just that they haven't thought about how.
What else will Silver feed through his magic number-crunching machine? "I guarantee there will be some politics and sports content at Fivethirtyeight, almost for sure some economics content. Beyond that, though, it might be a case where if we find the right person, we might hire in that vertical, or not do so otherwise." He said he would hire at least one person to handle politics, but he didn't yet know how many others he would be hiring.
Silver repeatedly held up the ESPN-owned Grantland as a model for how Fivethirtyeight would operate, and said that out of "a lot of intriguing offers," he went with ESPN in part because of its relationship with Bill Simmons and Grantland. That site "is a pretty good precedent: a site that has a great team built around one person's sensibility." Another model, he said, would be Ezra Klein's Wonkblog, at the Washington Post.
Neither Silver nor ESPN president John Skipper would say how much his deal with the network is worth, how much it paid for the Fivethirtyeight domain name, nor how long his contract will last. But they made it clear Silver would be with ESPN at least through the next election cycle. While the Times merely licensed Fivethirtyeight.com, ESPN bought it outright. Skipper said the Times had the URL through the end of August, but neither he nor Silver knew exactly when the new site would launch. Silver said he'd probably set up a minimal site in the meantime so he could cover news and sports as it came up. Just like the old days.