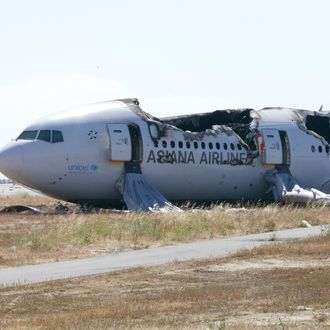 Just four days after Asiana Airlines Flight 214 crashed at San Francisco International Airport, information from the plane's cockpit recorders, photos of the plane's mangled interior, and details on the pilots' flight experience have all be made public. On Tuesday, the Air Line Pilots Association, a pilots' union, issued a statement complaining that the National Transportation Safety Board's "release of incomplete, out-of-context information has fueled rampant speculation about the cause of the accident," adding that this could lead to "misguided assessments of the crew's intentions and actions." Apparently the NTSB was unmoved by the criticism, as it held a press conference later on Tuesday that discussed new details uncovered in its interviews with the three pilots in the cockpit at the time of the crash.

The Wall Street Journal reports that federal investigators spent more than ten hours questioning the pilots on Monday and Tuesday, with their limited English skills complicating the interviews. The crew was led by Lee Kang-guk, an experienced pilot who was still training on the larger Boeing 777, and included Lee Jeong-Min, who was on his first trip as a flight instructor. Deborah A.P. Hersman, chairwoman of the NTSB, said on Tuesday that at about 500 feet in altitude, the pilots noticed that the plane was too low and off center, so they tried to correct course. The instructor said he assumed that the plane's auto-throttles were maintaining the correct speed, but at about 200 feet he noticed they weren't. Strangely, cockpit voice recordings show the two didn't communicate about the problems until seconds before impact.
According to the AP, turning on the auto-throttle in the 777 is a two-step process. Investigators said the auto-throttle switches were in the "armed" position, but didn't comment on whether they were also "engaged." That could mean that there was a mechanical failure, or that the pilots misunderstood the automated system.
While the Air Line Pilots Association said it was "stunned by the amount of operational data" released by the NTSB, Hersman defended the agency, saying the its behavior has been "consistent" with previous probes, and no one should be jumping to conclusions about mechanical failure or pilot error so early in the investigation. However, she undercut that message a bit later in the press conference. "Let me be very clear. The crew is required to maintain a safe aircraft," she said. "We have a flying pilot and we have two other pilots that are in the cockpit and they have a monitoring function. One of the very critical things that needs to be monitored on an approach to landing is speed."