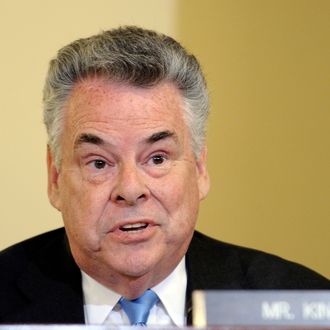 "It worked!"
Photo: Susan Walsh
In an out-of-nowhere report last night, the right-wing news outlet Newsmax reported that Long Island congressman Peter King is being encouraged to run for president in 2016 and is considering the idea. Newsmax refers to this as a "political development that could only be called surprising," but a more accurate way to describe it would be "not at all surprising."
This kind of thing is going to happen over and over and over again for the next two years or so, because there is literally no downside. Anyone who feels so inclined can simply claim to be "open" to running for president and perhaps spend a day or two in an early primary state like Iowa, New Hampshire, or South Carolina. Like magic, they become marginally more worthy of everyone's attention.
This is certainly King's intention, and he barely tries to hide it. Here's what he told the Hill today:
"We'll see where it goes. I'm not ruling anything out. What I'm going to try to do is certainly use this as an opportunity to get my views out on national defense and foreign policy," he said in a phone conversation. "I'm not saying no."
King basically comes right out and says it: This is a way to get his views heard. There's nothing wrong with that, but we all know the game. With respect to the presidential race, King is John Bolton without the enormous walrus mustache.