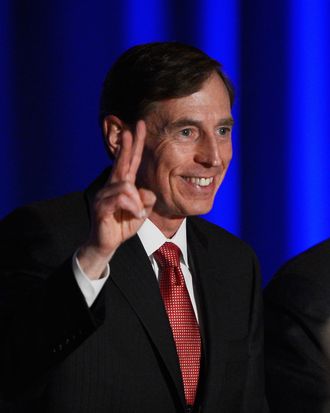 Former CIA director and retired four-star general General David Petraeus applauds as he makes his first public speech since resigning as CIA director at University of Southern California dinner for students Veterans and ROTC students on March 26, 2013 in Los Angeles, California. Petraeus apologized in his speech for his actions that lead to him resigning from the CIA.
Photo: Kevork Djansezian/Getty Images
He'll also have graduate students to assist him with "course research, administration, and grading" and will receive "limited additional funds for travel to professional meetings as a representative of CUNY," Gawker reports thanks to e-mails gleaned from a FOIL request. Petraeus also has a teaching gig at USC and a job with the private-equity group KKR. David Petraeus is doing okay.