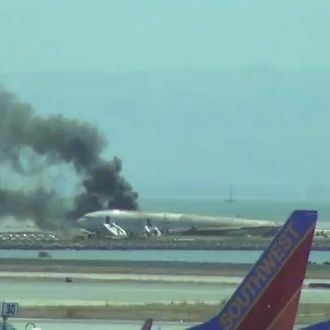 A Boeing 777 operated by the Korean airline Asiana crashed around 11:20 a.m. on Saturday while landing at San Francisco International Airport, the FAA has confirmed. Asiana Airlines Flight 214 was heading to SFO from Seoul, South Korea. KTVU reports that the landing gear had come down when the tail came off, causing the plane wobble and flip upside down. Video that appears to have been taken from the airport shows massive amounts of smoke billowing from the plane as it sits on the runway. So far there's no word on injuries, but one passenger tweeted, "I just crash landed at SFO. Tail ripped off. Most everyone seems fine. I'm ok. Surreal…"
Here's video of the plane. We'll update as more information becomes available.
Update, 5:03 p.m.: KTVU reports that two people were killed and least 61 were injured in the crash. Officials won't give out any information on the passengers, but it's believed that at least 291 people were on board. All roads to the airport have been closed and flights are being diverted to Oakland International.
The plane is missing its tail and most of the top of the fuselage has been ripped or burned off. Several sources tell NBC News, "the early indication was that the plane came in too short on its landing and hit the seawall at the airport."
Update, 9:20 p.m.: ABC 7 reports that the plane was carrying 307 people. At least 181 of them have been taken to hospitals.