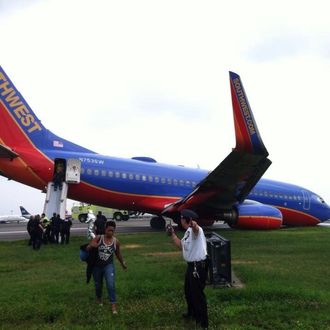 The landing gear on Southwest Airlines Flight 345 collapsed on Monday night just after the plane landed at LaGuardia, temporarily shutting down the airport. After a three-and-a-half-hour flight from Nashville International Airport, the plane was taxiing around 5:45 p.m. when the front wheel "popped off the aircraft's landing gear," according to Port Authority spokesperson Lisa MacSpadden. There were 150 people on board, including the crew, and at least ten people were injured. The Wall Street Journal reports that six people were taken to the hospital, four were treated at the scene for back and neck pain, and four other people suffered anxiety attacks.
According to the FAA, the pilots had reported that the Boeing 737 was experiencing "possible front landing gear issues before landing." The NTSB said it's investigating, and has yet to determine if the issue should be classified as an "incident" or a more serious "accident." Whatever it's called, the crash is causing flight delays that are rippling across the country. One of the LaGuardia's two runways was reopened in about 80 minutes, but the other will remain closed indefinitely. MacSpadden said, "Passengers need to be prepared for major delays."
The incident is particularly chilling since it comes just two weeks after the Asiana Airlines crash at San Francisco International Airport that killed three people. Unlike that crash, there was no fuel leak or fire at LaGuardia tonight, but emergency crews sprayed the area with foam as a precaution. Passengers told CNN that they felt a "strong jolt" and immediately knew something was wrong. "The plane skidded to a stop and the cabin filled with smoke," said passenger Chuck Drago, 35, of Los Angeles. "We knew that it crashed because it was tilted. I had that San Francisco flight in my head. … At least I'm alive, at least everyone is."
Update, 11:25 p.m.: NBC New York has footage of the plane skidding down the runway.