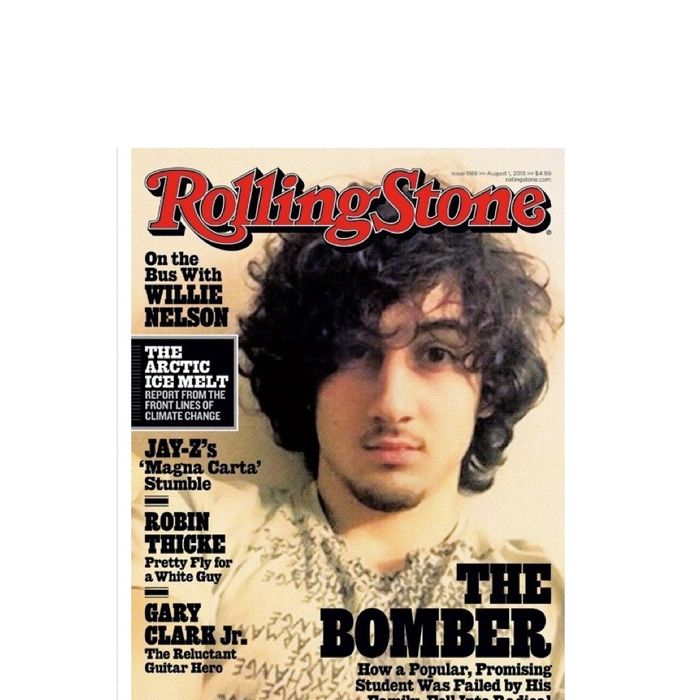 The outrage over the Rolling Stone cover featuring Dzhokhar "Jahar" Tsarnaev in a teen heartthrob pose has sparked boycotts by several chains, condemnation from Boston Mayor Thomas Menino, and even an ill-advised call to buy a copy just to publicly burn it. On Thursday, Sgt. Sean Murphy, a tactical photographer for the Massachusetts State Police, tried to find a more productive outlet for his frustration: releasing hundreds of never-before-seen photos of the manhunt for Tsarnaev to Boston magazine. The trove (selections available here) includes shots of officers working to find the 19-year-old, and photos of him emerging from a boat, bloodied and defeated, with a police sniper's target on his forehead. "What Rolling Stone did was wrong," says Murphy. "This guy is evil. This is the real Boston bomber. Not someone fluffed and buffed for the cover of Rolling Stone magazine."
Murphy was the only photographer behind police lines during the manhunt, and Boston magazine notes that he is also photographs the funerals of officers killed on duty and acts as a liaison to their families. He issued this statement to the magazine:
As a professional law-enforcement officer of 25 years, I believe that the image that was portrayed by Rolling Stone magazine was an insult to any person who has every worn a uniform of any color or any police organization or military branch, and the family members who have ever lost a loved one serving in the line of duty. The truth is that glamorizing the face of terror is not just insulting to the family members of those killed in the line of duty, it also could be an incentive to those who may be unstable to do something to get their face on the cover of Rolling Stone magazine.

I hope that the people who see these images will know that this was real. It was as real as it gets. This may have played out as a television show, but this was not a television show. Officer Dick Donohue almost gave his life. Officer Sean Collier did give his life. These were real people, with real lives, with real families. And to have this cover dropped into Boston was hurtful to their memories and their families. I know from first-hand conversations that this Rolling Stone cover has kept many of them up—again. It's irritated the wounds that will never heal—again. There is nothing glamorous in bringing more pain to a grieving family.
Boston magazine editor John Wolfson said in an interview with the Washington Post that Murphy didn't ask for money, and wasn't compensated by the magazine. "He's been sitting on them for months. I don't think he ever intended to release them at all," he said. Wolfson added that Murphy knew he might face disciplinary action, and sure enough, he was relieved from duty a short time after the photos appeared online. The magazine reports that Murphy hasn't been fired, but two lieutenants came to his house and confiscated his gun, badge, and various other police property. Murphy has been ordered not to speak about the case, and his duty status will be reviewed next week. More photos are set to appear in Boston magazine's September issue, though we have a feeling the Massachusetts State Police might have some objections.