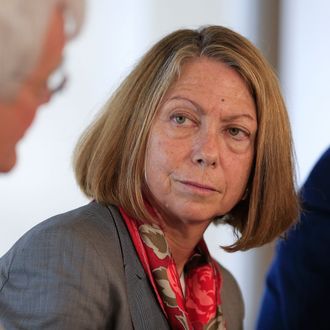 Photo: Andrew Harrer/Bloomberg/Getty Images
New York Times executive editor Jill Abramson is not going to pretend she doesn't feel feelings, if only for a moment. "I cried," she told Newsweek flatly of the Politico story in which anonymous Times staffers called her "impossible" and "very, very unpopular." (The portrayal was at least borderline sexist, as pointed out by Abramson's No. 2, who said "here's a really easy caricature that some people have bought into, of the bitchy woman character …") "I should say it went right off me, but I'm just being honest," Abramson continued with a few months of hindsight. "I did cry. But by the next morning, I wasn't completely preoccupied by it anymore. I had my cry and that was that."
But lest anyone get the idea that the first-ever female editor atop the Times is weak, the story's author Lloyd Grove, an old colleague who calls her "down-to-earth, whip-smart, funny, and fun," provides an opposing anecdote:
As we talk, uniformed maintenance workers begin carrying away chairs and tables to set up for a corporate event, and in due course a young guy approaches and tells us we have to leave. "I'm the executive editor — I need to be here for a little while," Abramson declares flatly. "You can tell your boss to come talk to me, OK?"

Wisely, he retreats. Abramson is nothing if not formidable.
It's a balancing act, and she appears to be pulling it off.