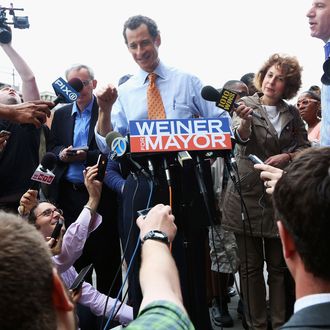 Photo: Mario Tama/2013 Getty Images
Anthony Weiner gave the mayoral race a jolt when he jumped in, soaking up a few weeks of free publicity and coming out ahead in a handful of polls. But while he's established himself, in part through name recognition, as a formidable candidate, it'd be an overstatement to call him the front-runner at this point: A New York Times/Siena College poll out today breaks with the recent trend and finds Christine Quinn leading Weiner by nine points, 27 percent to 18 percent, with the rest of the guys lagging somewhere behind. This thing is far from over.
The poll of 1,010 registered voters, conducted during the week of July 9 to 15, found that New Yorkers want a mayor with "empathy" above all else. As such, Weiner's favorability rating is just 24 percent, compared to 36 percent of those asked who view him unfavorably. (In the comptroller's race, 30 percent view Eliot Spitzer favorably, and 33 percent unfavorably; polls have him leading anyway.)
What Weiner does have is loyalty, with 41 percent of his supporters saying they are "absolutely certain" he's their choice, compared to just 21 percent for Quinn. With the initial hype of Weiner's redemption tour dying down, what we're left with is a legitimately close race.