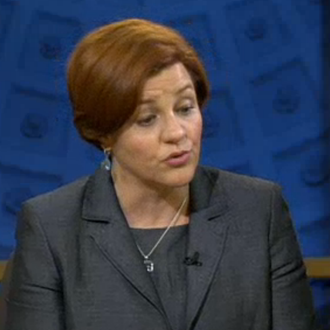 Christine Quinn has run a more or less attack-free campaign so far, criticizing her rivals by insinuation but rarely naming them in her public remarks and mailings. That changed on Tuesday in an interview with NY1's Errol Louis, with whom she was more than a little candid about her thoughts on two rivals in particular: Bill de Blasio and Bill Thompson. De Blasio, she said, is "desperate" because of his low poll numbers, while Thompson, former city comptroller, was "asleep at the switch." This stuff doesn't exactly sound like Quinn's supposed "bitch tap" of lore, but it's pretty harsh compared to her measured statements so far.
De Blasio got the brunt of Quinn's fury when Louis asked Quinn about his recent call for an independent investigation into "lost calls" in the city's 911 system:
Bill de Blasio is desperate. He is stuck in the bottom of the polls and he's desperately, and quite frankly, sadly attacking an institution I'm incredibly proud of — an institution he was a member of and in the leadership of for eight years.

It's sad that Bill is manipulating a very serious situation to try to deal with his sagging poll numbers
Ouch! De Blasio has been hovering somewhere toward the bottom of the middle of the Democratic pack, with 10 points in a recent Marist poll, compared to 20 for Quinn and 25 for frontrunner Anthony Weiner.
She did not hold back when talking about Thompson, either, when asked about a recent report that he failed to rein in costs of the CityTime payroll system:
His most basic responsibility is to audit. He didn't do that. He was asleep at the switch and first started taking responsibility and now is blaming other people when he let $700 million basically go right under his nose. That's a record he has to defend and stop blaming other people.
So much for staying above the fray. But again, this is pretty routine stuff for most political campaigns. Anyway, now that she's turned on the, er, criticism tap, it'll be interesting to see how harsh Quinn gets as this primary campaign enters its last two months.