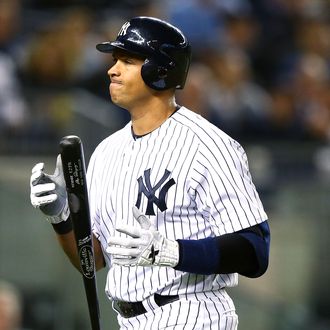 Alex Rodriguez.
Photo: Al Bello/Getty Images
Yesterday was an eventful day in the ongoing A-Rod soap opera: He had a doctor, on sports-talk radio, declare him fit to play (perhaps because he believes there's a conspiracy afoot to keep him off the field) while the Yankees reportedly began to look into whether the third baseman had violated the collective bargaining agreement just by seeking the second opinion. The current round of developments, though, isn't quite as dramatic, as it's taking place mostly via press release.
To be more specific, dueling press releases, one released last night by Brian Cashman, and one released today by A-Rod himself.
Here's Cashman's, in full: 
"I heard via a text message this afternoon from Alex Rodriguez that he had retained a doctor to review his medical situation.  In media reports, we have since learned that the doctor in question has acknowledged that he did not examine Mr. Rodriguez and that he was not retained to do a comprehensive medical examination of Mr. Rodriguez. Contrary to the Basic Agreement, Mr. Rodriguez did not notify us at any time that he was seeking a second opinion from any doctor with regard to his quad strain.

"As you know, it is the Yankees' desire to have Alex return to the lineup as soon as possible.  And we have done everything to try and accomplish this. 

"As early as Friday, July 12, when I suggested to Alex that we move his rehab from Tampa to Triple-A Scranton (at Buffalo), Alex complained for the first time of "tightness" in his quad and therefore refused to consent to the transfer of his assignment.  Again, last Sunday, Alex advised that he had stiffness in his quad and should not play on Sunday or Monday.  We sent Alex to New York-Presbyterian Hospital for an MRI which evidenced a Grade 1 strain.

"As always, we will follow the rules and regulations set forth in the Basic Agreement, and will again re-evaluate Alex in Tampa tomorrow, as our goal is to return him to the lineup as soon as he is medically capable of doing so." 
The "Contrary to the Basic Agreement" part — coupled with the part about how "as always, we will follow the rules and regulations set forth in the Basic Agreement," is a bit of a dig at A-Rod. Otherwise, Cashman is publicly countering any conspiracy theories that the Yankees don't actually want A-Rod to play.
Meanwhile, here's A-Rod's statement, which exists because he really, really wants everyone to know that he's ready to play:
"I think the Yankees and I crossed signals. I don't want any more mix-ups. I'm excited and ready to play and help this team win a championship. I feel great, and I'm ready and want to be in the lineup Friday night. Enough doctors, let's play."
As for when A-Rod may actually get to play, Brian Cashman told reporters that A-Rod will undergo further treatment in Tampa, with the hope that he'd be able to play in a simulated game or a rehab game on August 1. Cashman said he hoped it wouldn't be much longer after August 1, so that A-Rod could play in major-league games.