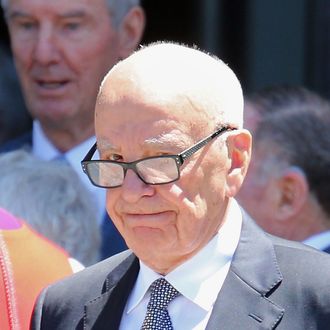 Photo: Scott Barbour/Getty Images
News Corp. boss Rupert Murdoch may have mostly outrun or paid off his company's journalistic sins, but in private he still has some feelings. "I mean, it's a disgrace. Here we are, two years later, and the cops are totally incompetent," Murdoch told a room of journalists accused of criminal wrongdoing at his newspaper The Sun, according to a surreptitious recording made by someone present. "It's the biggest inquiry ever, over next to nothing," he said of the ongoing arrests for bribery that followed the phone-hacking mess. There is reportedly some angry table-slapping.
Murdoch, who split his companies in two as a result of the scandals, gave his word to the accused journalists that News Corp. would give them "total support," even if they were convicted and even if the cases outlive him. In the event he was no longer in charge, Murdoch said, "The decision would be — well, it will either be with my son, Lachlan, or with [News Corp. CEO] Robert Thomson," a possible allusion to his succession plans. The tape was obtained by Exaro and will air tonight on Channel 4 in Britain.
"It would be nice to hit back when we can," one person suggests on the recording, in reference to the cops' handling of the cases. "We will," says Murdoch. "We will." Whoever leaked the recording should probably watch out, too.