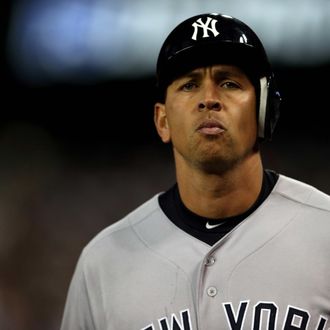 Alex Rodriguez.
Photo: Jonathan Daniel/Getty Images
Ryan Braun was suspended for the remainder of the season yesterday — 65 games in all — for violating Major League Baseball's drug policy. He's the first player suspended as a result of baseball's investigation into Miami's Biogenesis clinic, but he isn't likely to be the last. Among those baseball is investigating is Alex Rodriguez, and though we're still waiting to learn his fate, Braun's suspension is bad news for him.
Baseball and the players association have collectively bargained punishments for players who fail drug tests: 50 games for first-time offenders, 100 games for second-time offenders, and lifetime bands for third-time offenders. Both Braun and A-Rod, officially, have no priors: Braun failed a test once but won his appeal and avoided punishment because of how his sample was handled. And though A-Rod admitted to PED use after a 2009 report said he'd failed a test in 2003, that test occurred during the league's supposedly anonymous survey testing, which was conducted to determine whether full testing (with punishments) was necessary.
But Braun got a suspension of longer than 50 games. Via the Times, that's because he didn't actually fail a drug test in this case. His case, then, falls outside those collectively bargained punishments. (Take a moment, by the way, to consider how illogical all of this is: A failed drug test, i.e., indisputable evidence, gets a player 50 games. But without that indisputable evidence, the league can actually hand down longer suspensions if it doesn't like what it finds.)
Anyway, Braun's lengthy suspension confirms what we already assumed: Baseball is going hard after its white whales. And if it's not limited by any collectively bargained punishment structure, the sky's really the limit for a potential punishment for A-Rod, who reportedly has even more evidence against him than Braun did. (T.J. Quinn reports that the charges against A-Rod are expected to include the accusation that he interfered with the investigation.) Since baseball can apparently make up any suspension it wants in these Biogenesis cases, perhaps A-Rod, too, will be suspended for the rest of the season. Or maybe he'll be suspended for next season, as well. Perhaps Bud Selig will make him wear a dunce cap on the bench and write "I will not take PEDs" 275 million times on a chalkboard in the clubhouse. It's Bud Selig's dream scenario in his war against PEDs: A loophole that lets him play king.
ESPN reports that A-Rod is trying to make a deal with the league, though the Yankees don't believe a suspension announcement is imminent. But if A-Rod doesn't reach a deal, he can also appeal his suspension. Braun didn't appeal, though that wasn't necessarily because he felt he had to own up to his mistakes: His team's out of the playoff race and, more importantly, his salary rises from $8.5 million to $10 million next season. He loses less money by taking his suspension now.
A-Rod, though, could choose to drag this out. (He's actually owed less money next year than he is in 2013.) We've already looked at why an appeal could be successful, but Braun's admission yesterday lends some credibility to Biogenesis and its founder Anthony Bosch. Whatever baseball learned from its investigation was enough for Braun to know he'd been caught. An arbitrator would still have a lot to consider — such as the deal struck between baseball and Bosch to get him to talk — but yesterday's developments don't help A-Rod's case.
It's important to remember that Braun and A-Rod are two different cases, and just because one admitted to wrongdoing doesn't mean the other is guilty. But if the evidence against A-Rod is as strong as it's reported to be, and knowing what we do about how baseball is targeting players it feels has embarrassed the league, Rodriguez could be in real trouble. Baseball might want to do more than just suspend him. It might want to make an example out of him.