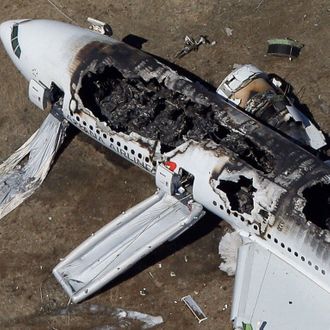 Now that the smoke has cleared, investigators have started to look into what caused Asiana Airlines Flight 214 to crash and catch fire as it landed at San Francisco International Airport late Saturday morning. The accident killed two Chinese 16-year-old girls, Ye Mengyuan and Wang Linjia, who were on their way to a two-week English-language summer program along with 28 other students from their hometown of Jiangshan, according to Shanghai's Oriental Morning Post. With all 307 of the Boeing 777's passengers and crew members accounted for, a SFO spokesman said 49 people were critically injured, while 132 were treated for less significant injuries. Asiana CEO Yoon Young-doo, who apologized for the wreck during a Sunday news conference in Seoul, said he does not believe mechanical failure was to blame, though he declined to say whether he believed the wreck happened as a result of an air traffic controller or pilot error. However, he said Flight 214's four pilots were "skilled," and pointed out that three of them had logged more than 10,000 hours each of flight time.
The National Transportation Safety Board recovered the plane's "black box" data recorders and sent them to Washington for analysis. The Federal Aviation Administration is also investigating the incident, and Asiana said on Sunday that Korean investigators were headed to San Francisco. NTSB chairman Deborah Hersman said on Sunday's Meet the Press that there was no indication of criminal activity, but the possibility hasn't be completely ruled out. "Everything is still on the table," she said. The FBI is currently assisting in the investigation.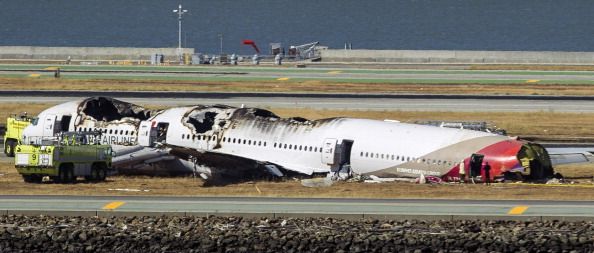 A number of eyewitnesses and Flight 214 passengers have said the plane was lower than it should have been as it approached SFO. Kate Belding, who was jogging near the airport at the time of the crash, told the LA Times the Boeing 777 "just didn't look like it was coming in quite right." Another witness, Stefanie Turner, told the New York Times, "It came in at a 30- or 45-degree angle and the tail was way, way lower than the nose." In an interview with a local NBC station, passenger Benjamin Levy explained, "I know the airport pretty well, so I realized the guy was a bit too low, too fast, and somehow he was not going to hit the runway on time, so he was too low … he put some gas and tried to go up again. But it was too late, so we hit the runway pretty bad, and then we started going up in the air again, and then landed again, pretty hard." The LA Times reports that, "Multiple sources said there was no reported trouble or declared emergency on the plane before it landed."
The plane's tail, landing gear, and one of its engines were torn off as it hit a seawall located at the end of the runway and skidded about 300 yards before catching fire. Passengers were able to escape via emergency chutes before firefighters and other first responders arrived. Given the size of the wreck, witnesses and survivors said they were surprised there were not more fatalities. "When you heard that explosion, that loud boom and you saw the black smoke … you just thought, my god, everybody in there is gone," said Ki Siadatan, who watched the plane crash from his balcony near SFO. "My initial reaction was I don't see how anyone could have made it." And San Francisco Fire Department Chief Joanne Hayes-White said, "Having surveyed that area, we're lucky that there hasn't been a greater loss."
Update, 4:45 p.m.: CNN has obtained a cellphone video of Flight 214 descending and cartwheeling on the runway before bursting into flames:
The Washington Post reports that at least eight passengers remained in critical condition at San Francisco hospitals on Sunday with head injuries, internal bleeding, or fractured spines.
Update, 5:24 p.m.: NTSB chairman Deborah Hersman told reporters that Flight 214's pilots attempted to initiate a "go-around" — airplane talk for an aborted landing during a final approach — 1.5 seconds before they crashed.
Update, 5:50 p.m.: Hersman also told reporters that the plane's "black box" recorders showed that the aircraft was indeed flying "too slow and too low" as it approached the airport. She also said the pilots sped up 7 seconds before crashing (and, obviously, before they tried to abort the landing), though she stopped short of blaming them for the accident. "We have a long way to go in this investigation," she said.