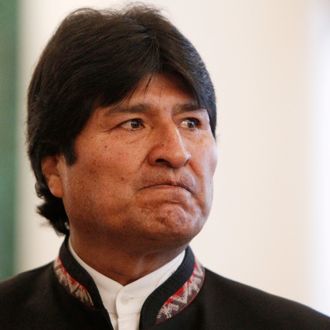 Evo Morales, unhappy.
Photo: AFP PHOTO / POOL / MAXIM SHEMETOV/Getty
Last night, the government plane of Bolivian President Evo Morales spent thirteen hours stalled in Vienna because of an ultimately baseless guess that fugitive leaker Edward Snowden was onboard, headed to South America. It turns out he wasn't. "The rumors were just that," said a spokesman for the Austrian government, which let the plane land after France and Portugal denied it airspace on the way back from Moscow, where Snowden is thought to be holed up. Although the obvious assumption is that the U.S. pressured its allies to deny the Bolivian plane a route home, the Obama administration has remained mum so far.
"We were in flight; it was completely unexpected,"said Bolivian defense minister Rubén Saavedra, calling the delay "an attitude of sabotage and a plot by the government of the United States." Morales, he said, "was very angry." The government plane eventually "agreed to a voluntary inspection," according to an Austrian official, Reuters reports. "Our colleagues from the airport had a look and can give assurances that no one is on board who is not a Bolivian citizen." Unless Snowden has gotten really good at hiding.
This wave of trouble started at an energy conference in Moscow, where the Bolivian president was asked if he would grant asylum to Snowden. "Yes, why not?" said Morales. "We are here." At the end of the interview, he quipped, "It's time for me to go; Snowden is waiting for me," the Times reports.
That was apparently enough to trigger a diplomatic clusterfuck, despite the logistical improbability: Government planes leave from a different airport than where Snowden has been staying, so the Bolivians would have had to pick him up. Previously, President Obama said, "I'm not going to be scrambling jets to get a 29-year-old hacker." But while on the lam, Snowden turned 30.