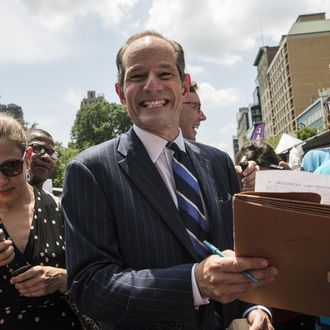 One down, 26,999 to go.
Photo: Andrew Burton/2013 Getty Images
This afternoon, Politicker noted that due to an obscure state law, Eliot Spitzer might actually need to collect 7,500 signatures to run for city comptroller, not just the 3,750 required by the city. As it turns out, that issue is moot. About an hour before the midnight Thursday deadline, Spitzer turned in more than 27,000 signatures — about as many as Anthony Weiner collected for his mayoral bid over the past seven weeks. Outside the offices of the Board of Elections, with boxes of petitions in tow, Spitzer thanked the signers. "I want to say that it's an important statement to those who said it was not possible in the course of three-and-a-half days to gather enough signatures to get a candidate on the ballot for city-wide office," he said.
Spitzer could still face a legal battle over his last-minute attempt to get on the ballot for September's Democratic primary. Signatures can be invalidated for a variety of reasons, including a voter signing a petition for another comptroller candidate, not being a registered Democrat, or even writing out their address incorrectly. Preliminary objections to the petitions must be filed by Monday, and the court fights could continue into mid-August. A legal challenge could create a headache for Spitzer, though it's hard to imagine that more than 23,000 of his petitions will be invalidated.
Now that the race is really on, Spitzer and his primary opponent, Scott Stringer, wasted no time in arguing over who's the real underdog. Stringer attacked the manner in which the former governor accomplished his signature collection blitz, sniping, "A hundred thousand people signed my petition, and we didn't have to pay anybody." While Stringer had volunteers collecting signatures, Spitzer reportedly paid people up to $800 a day to take to the streets of New York with a clipboard.
In a preemptive attack, Spitzer said, "anybody who'd challenge 27,000 signatures would be sending a statement they don't really believe in democracy," adding, "We don't believe that bosses dictate who gets on the ballot" (a dig at his opponent's support among the party establishment). A spokeswoman for Stringer countered that Spitzer's the one who's trampling on democracy by trying to "use his personal fortune to try and buy this election wholesale." There's no prize for being the first candidate to rack up 3,750 insults, so they might want to save some energy for the next few weeks.