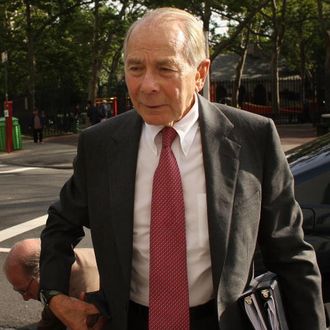 Just a day after Eliot Spitzer managed to rustle up the signatures he needs to qualify for a city comptroller run, an old enemy from his Sheriff of Wall Street days has reemerged. On Friday evening, The Wall Street Journal reported that former AIG CEO Hank Greenberg is suing Spitzer for defaming him between 2004 to 2012. The lawsuit, which was filed with the New York state Supreme Court in upstate Putnam County, accuses Spitzer of maintaining "a long-standing malicious campaign … to discredit Mr. Greenberg and damage Mr. Greenberg's reputation and career, while attempting to bolster Mr. Spitzer's own reputation and career," according to the New York Daily News.
Indeed, the two men do have an unhappy history. In 2005, Greenberg was forced to give up his role at AIG after then New York State Attorney General Spitzer accused him of accounting fraud and lying about the insurance giant's earnings. Greenberg, who now runs Starr Companies, has always denied those claims (though the company eventually admitted to deceptive business practices in a $1.64* billion settlement with federal and state securities and insurance regulators a year after his ouster), and Spitzer has never stopped insisting that they're true. Greenberg's lawsuit (available here) points to allegedly defamatory statements made by Spitzer dating back to 2004, though it mostly focuses on more recent comments: During a interview with the New York Law Journal, Spitzer called Greenberg's management style "crooked" and "corrupt." Later that year, Spitzer appeared on CNBC's Closing Bell with Maria Bartiromo, where he repeatedly said that Greenberg committed fraud. "Let's deal with reality here," he said at one point. "Hank Greenberg's accounting was fraudulent."
Just for good measure, Greenberg's lawsuit also reminds the court that Spitzer resigned his governorship over "numerous acts of moral turpitude," and chronicles the many millions of dollars Greenberg has given to charity. A source "familiar with the situation" told the Daily News that the timing of  Greenberg's filing was based on New York's one-year statute of limitations for defamation complaints, as opposed to Spitzer's decision to run for office, but it does seem like quite the coincidence. As a Greenberg adviser told The WSJ, "Mr. Greenberg's views on the disgraced former governor are well known and at the appropriate time he will get involved [in the campaign against him.]"
Spitzer responded by calling the lawsuit "frivolous" and said he "will be happy to discuss the relevant facts in the days ahead." In the meantime, he submitted himself to a somewhat awkward discussion of his past mistakes and hopes for the future with an appearance on The Tonight Show (which was preceded by a clip of Jay Leno's other guest, Bill Hader, impersonating Spitzer on Saturday Night Live.) Here's a video of Spitzer trying once again to explain how he ended up with all those hookers:
*This post has been corrected to reflect that the size of AIG's 2006 settlement with regulators was $1.64 billion, not $164.1 billion.