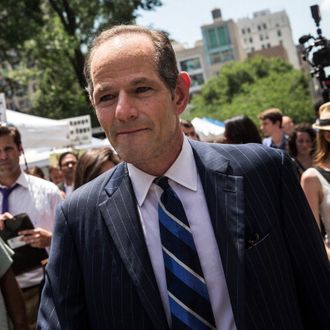 Photo: Andrew Burton/Getty Images
The first round of polls following Anthony Weiner's latest X-rated revelation was not kind to the mayoral candidate, but his "tabloid twin" Eliot Spitzer, who has firmly denied he lapsed into any old habits since coming clean in 2008, has not suffered as much. Still, the lead Spitzer established last week is not as robust as it once was. According to the latest Quinnipiac University poll, it's been swallowed up by a margin of error. "Forty-nine percent of respondents said they backed Mr. Spitzer, who entered the race two weeks ago, versus 45 percent who said they supported Mr. Stringer, with a margin of sampling error of plus or minus four percentage points," the New York Times reports. Last week, Spitzer had 48 points in that poll but Stringer only had 33.
Spitzer's lead was a bit more defined in a Wall Street Journal / NBC Marist poll, in which he led 49 percent to 32 percent among registered Democrats and 48 to 36 percent among likely voters. So New Yorkers apparently don't hate Spitzer en masse the way they suddenly do Weiner, but they do seem to be cooling toward him, and in a hurry.