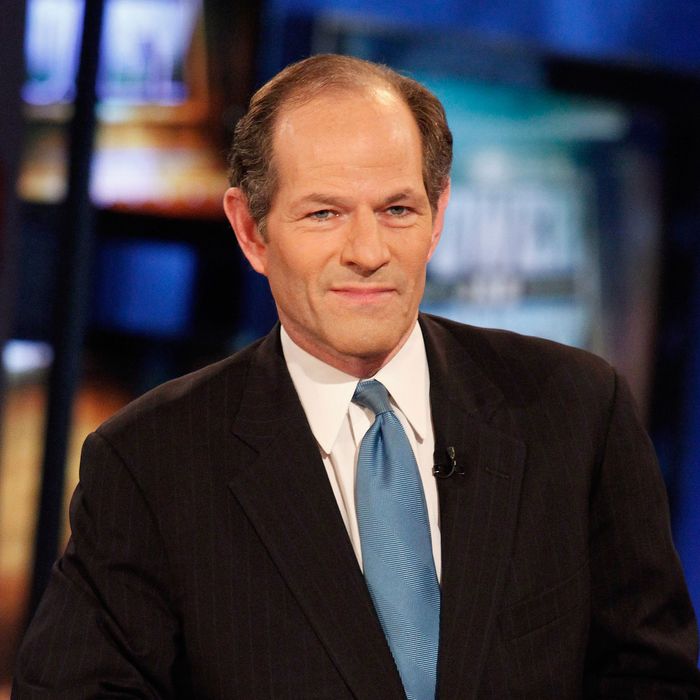 An amazing, brilliant man.
Photo: Cindy Ord/2011 Getty Images
Eliot Spitzer is amazed by brilliance.
That's the conclusion to be drawn from reading Spitzer's new e-book, Protecting Capitalism Case by Case, which came out last week as his run for New York City comptroller was being announced. The book itself is serviceable but nothing too earth-shattering — Spitzer retells his old war stories from the attorney general's office, settles some long-ago scores, and makes an extended criticism of conservative economic theory. But it's Spitzer's use of his two favorite adjectives that stands out.
Those adjectives are amazing and brilliant. In the relatively small space of 172 pages, Spitzer manages to apply one of the two to most of the books, ideas, and sentient humans he has ever come across.
Most of Spitzer's amazings are in earnest:
"Some amazing work by NY State Troopers— led by the remarkable Dan Wiese— got us where we needed to go."

"The amazing thing is that they were actually running a business— making the trucks run on time— and making sure the rules of the conspiracy were enforced: no competition, no poaching, and make sure the sweatshop owners never start to break down the system."

"This problem is at the root of amazing— and legitimate— public dissatisfaction with our judicial system."

"RDA was founded by an amazing couple, Lila and DeWitt Wallace."
But he's also mastered the use of the cutting, sarcastic application:
"The amazing thing about these opinion letters is that they almost always say exactly what the board WANTS to hear."

"It is amazing that institutions manage to continue onward even after the most essential people move on."
Spitzer's claims of brilliance are mainly about books he's read or theories he's learned about:
"This sad saga is further evidence of Senator Daniel Patrick Moynihan's brilliant theory of 'defining deviancy down.'"

"Or read the brilliant Random Walk Down Wall Street, by Burt Malkiel— my freshman year econ professor."

"The 'flat earth' and the opening of vast new regions for production— brilliantly defined by Tom Friedman— changed the competitive landscape for U.S. labor."

"The second volume that captures these 'bubble' moments … is Tom Wolfe's brilliant Bonfire of the Vanities."

"Grubman's brilliant rationalization that 'conflicts had become synergies' is still not true— and never will be."
But a few lucky people also get them:
"Jack Bogle, the founder of the Vanguard funds, a brilliant guy, and one of the 'good guys' in the financial world."

"I have been privileged to work with brilliant committed public servants throughout my career, who have inspired me, challenged me, educated me, and supported me."
Economist John Kenneth Galbraith is the lucky recipient of both an amazing and a brilliant.
"John Kenneth Galbraith— one of the great economists and economic historians of recent times. His brilliant volume A Short History of Financial Euphoria captures more about the way financial markets generate bubbles and empower financiers than just about any other book I have read."

"But the amazing applicability of just about everything Galbraith wrote to the cataclysm of 2008 is just as remarkable."
Spitzer's infatuation with amazing brilliance seems to date to at least his Slate-writing days. Headlines of his columns included: "The Amazing Campaign Ad That Should Cut Through the Clutter," and "You Must Read This Brilliant Economist Article About Inequality and Crony Capitalism."
Now Spitzer is running for comptroller, a position that would give him control of the city's finances. Those finances are neither amazingly solvent nor brilliantly managed — meaning that, if he manages to win the race, his staffers might want to invest in a thesaurus.