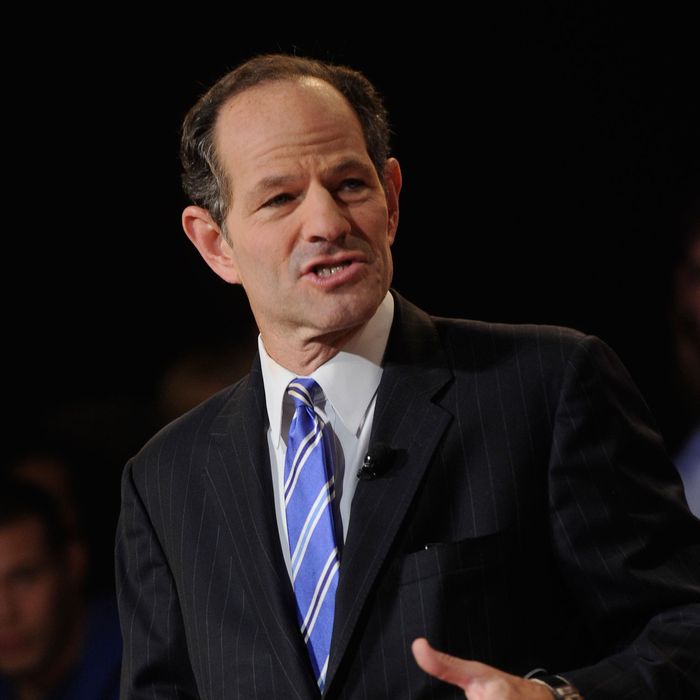 No, seriously — let me be your comptroller.
Photo: Kris Connor/Getty Images
Now here's a comeback that seems to make sense. Eliot Spitzer has spent a significant amount of time in political purgatory: Five years have passed since he was caught in a prostitution scandal and resigned as governor. He appears to have gotten his priorities in order: first trying to repair relations with his wife and daughters, then reemerging as a commentator, mostly on serious issues in which he has an expertise. Sure, Spitzer's turns as a host on CNN and Current TV were ratings duds, but he mostly elevated the dialogue, and his time as a NY1 "Wiseguy" showed he'd become better at mixing in some humor. And his columns for Slate, especially about the financial crisis and the federal bailout, were smart and fiery plutocrat-populist reminders of what had made Spitzer so good as state attorney general. Those skills, in turn, match well with the office he suddenly wants to win: city comptroller.
Yet actually winning, in a Democratic primary against current Manhattan borough president Scott Stringer, is going to be difficult.
The timing of his last-minute decision — six weeks after Anthony Weiner's success at launching a viable campaign — means that throughout the election season Spitzer's sins will be measured against those of the disgraced former congressman. In legal terms, there's no contest: Spitzer committed adultery and possibly broke interstate sex trafficking laws. Weiner tweeted photos of his penis and his bare chest — egregious violations of judgment, but probably not actionable. The moral and political trespasses, though, are significantly tougher to weigh, and the standards are highly subjective. The rough consensus is that Spitzer's acts were (very slightly) more sane, Weiner's more twisted; Spitzer's transgressions more offensive, Weiner's sillier. Yet the political damage, then and now, is clearly worse for Spitzer: He'd become a star as a prosecutor, and won a landslide victory in the 2006 race for governor, on his record and reputation for rectitude. He was going to clean up Albany, but instead antagonized allies and infuriated enemies before diving into his own cesspool, blowing a major chance to straighten out the state. Weiner was merely one of 435 in Congress — good at drawing attention to hot-button issues and to himself, but ineffective at passing legislation. Part of why voters seem willing to forgive Weiner is that he was playing for lower stakes.

The horse-race particulars of Spitzer's bid for comptroller are also daunting, but they set up a fascinating political lab experiment. Stringer, amiable and earnest, will have all the labor union and editorial-page endorsements and the backing of every current Democratic elected official. Spitzer, caustic and wonky, has star power. Well, and a personal fortune, but even that comes with a downside: Because Stringer is now running against a self-funder, he gets more money from the city's public finance system. Veteran strategists come to polar conclusions. "Eliot's chances are not good," one sharp consultant tells me. "Slapdash, last-minute vanity plays masquerading as political campaigns rarely work. Even Anthony gave himself enough time to get on the ballot. Assuming Eliot does make the ballot — and if it's a close call, that speaks volumes about the kind of campaign he'd run — I think this will be a lot tougher than he realizes. I also don't think the voters will be willing to give a pass to two perverts simultaneously, and there's something more likable about Anthony than there is about Eliot."

"Eliot's chances are excellent," an equally astute insider says. "Down-ballot races are all about name recognition, and the big institutions will focus on field operations for the mayor's race, not comptroller."

I think we're in a campaign year where the normal rules don't apply. A three-term, multibillionaire mayor is leaving City Hall, and one of the leading contenders to replace him is shaking off a sexting scandal. A former governor who once had a credible chance to be the country's first Jewish president now wants to take a post that's always been a bit of a backwater, promising to turn the comptroller's office into a crusading financial force. Anthony Weiner and Eliot Spitzer could be sunk at any time by more evidence of bad behavior. Or they could end up across the street from one another, occupying the two most powerful citywide jobs. No one knows whether that would be good for New York. But it sure wouldn't be dull.