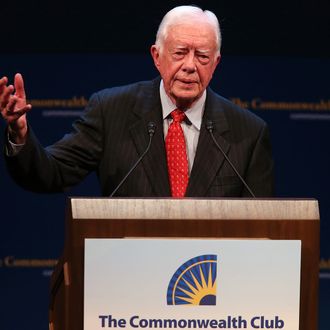 Former U.S. President Jimmy Carter speaks at the Commonwealth Club of California on February 24, 2013 in San Francisco, California. Former President Carter delivered a speech and took questions from the audience during a Commonwealth Club of California event at the Herbst Theatre.
Photo: Justin Sullivan/Getty Images
Killing the sitting president is pretty crazy. Killing a former president is even more crazy. And killing Jimmy Carter, a largely forgettable president who just wants to build homes for people and peacefully settle international disputes, is the craziest. Stop trying to kill Jimmy Carter, people.