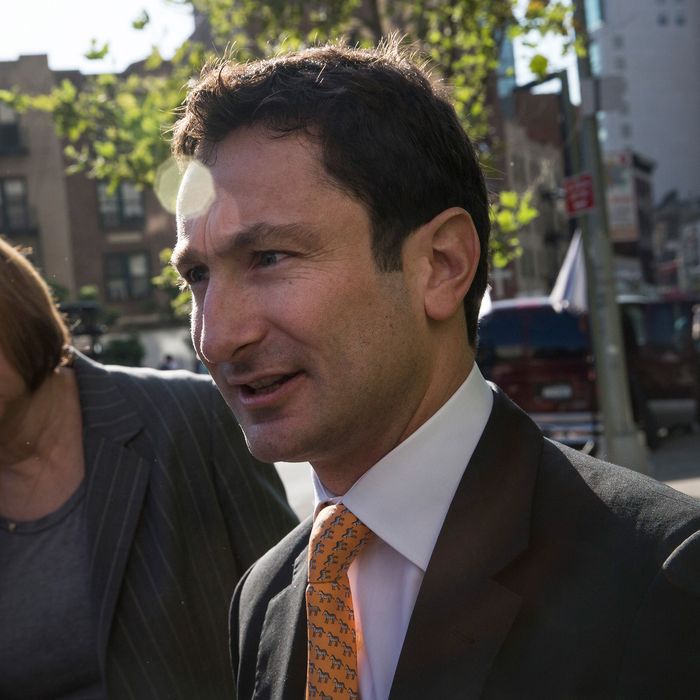 Here we go.
Photo: Andrew Burton/Getty Images
When Fabrice Tourre walked into a lower Manhattan courtroom this morning in a dark suit and crisp Hermès tie, he was more than a 34-year-old former Goldman Sachs mortgage trader surrounded by expensive defense lawyers. He was a symbol — a one-man proxy for the five-year war between the wizards of Wall Street and their lesser-informed marks. 
For Wall Street, Tourre is the sacrificial lamb for the subprime-mortgage crisis — the junior-level trader who took the sins of 2008 unto himself and was wrongly offered up to prosecutors as a fall guy for the housing crisis. For Main Street, Tourre is the financial sector's hubris embodied, and his trial, which starts today, is one last chance to see someone punished for the mortgage-backed uppercut the financial sector gave the rest of the country.
You may remember "Fabulous Fab" as the French-accented trader who sent those e-mails to his girlfriends, bragging about how he had sold a bunch of mortgage-backed CDOs to investors who didn't understand that they would become worthless when the housing market collapsed. In the e-mail that launched his nickname, he wrote:
"The whole building is about to collapse anytime now … Only potential survivor, the fabulous Fab … standing in the middle of all these complex, highly leveraged, exotic trades he created without necessarily understanding all of the implications of those monstruosities [sic]!!!"
Tourre is an economics Ph.D. student now, according to a DealBook profile that ran this weekend, a "standout" "analytical nerd" with a "knack for innovation." After leaving Goldman, he went soul-searching in Africa, where he helped create business plans for local farmers. These days, he's as excited about helping Rwandan coffee growers as he once was about ripping off mortgage investors. "Plenty of ideas and projects to focus on," he wrote in an e-mail to friends, "with the ultimate goal to improve coffee farmers' income and living conditions!"
Redemption narratives aside, the case against Tourre should be fairly simple. According to SEC Rule 10b-5, a trader can be found liable for fraud if he is found to have made "any untrue statement of a material fact" in connection with the purchase or sale of a security, or omitting any fact about the security that would be crucial to an investor's decision. It's not contested that Goldman neglected to tell the buyers of Abacus that John Paulson, a billionaire hedge-fund manager, had hand-picked its contents and was betting against it. And the SEC is expected to produce witnesses who will support claims of Fab's fabulism — mainly, Laura Schwartz, a former employee of Abacus manager ACA Management, who is expected to say that Tourre tricked her into thinking that Paulson was going long on Abacus rather than shorting it.
"The S.E.C. essentially argues that Tourre handed Little Red Riding Hood an invitation to grandmother's house while concealing the fact that it was written by the Big Bad Wolf," the judge in Tourre's trial wrote in a pretrial decision.
Of course, proving liability isn't as easy as proving that Little Red Riding Hood was fooled. Tourre's lawyers will argue that investors who bought Abacus knew what was inside it — or should have known, given the state of the subprime-mortgage market in 2007. They'll say that every trade has someone on the other side, and that sophisticated investors — such as the ones who bought Abacus — should have known full well that Paulson had a short position.
It's true that, as William Cohan says, Tourre is kind of a disappointing villain. He was a mid-level trader, and there were people on Wall Street far more senior than he was responsible for much bigger misdeeds. If you're a moralistic juror who blames Wall Street for the financial crisis, it's hard to believe that Tourre deserves to be punished, but Dick Fuld, Jimmy Cayne, and Tom "shitty deal" Montag don't.
But the SEC can only go to war with the evidence it has. And in Tourre's case, it believes it has what it doesn't have with any of the CEOs whose mistakes sparked the crisis — incontrovertible proof of actual securities fraud.
Fabulous Fab has a disadvantage over most other Wall Street defendants: those e-mails. In them, he calls the creation of synthetic, mortgage-backed CDOs "intellectual masturbation," jokes about selling them to "widows and orphans that I ran into at the airport," and uses both French and English to speculate about how it all will end. Jurors may fall asleep during lengthy explanations of credit risk and the CDO creation process, but they'll perk up when they hear a Goldman Sachs banker mouthing off about his conquests.
Still, braggadocious e-mails have never been enough to win a trial. The SEC will need to prove not only that Fabulous Fab rejoiced in the creation of his Frankenstein CDOs, but knowingly gave out false information about Abacus with an intent to defraud investors. Moreover, they'll need to make a victim out of ACA Management, a company that helped arrange the Abacus deal and that has proven itself to be less than sympathetic.
The SEC has lost far easier cases. And it knows the stakes on this one are high. Under fire since the financial crisis for being too lax on financial-sector criminality, the agency desperately wants to show that it can get a Wall Street scalp. It's assigned its head trial lawyer to the case and reportedly enlisted the services of a jury consultant. "Their reputation for trying cases hangs in the balance," Thomas A. Sporkin, an SEC enforcer until last year, told the Times. 
It's smart to take the Tourre case seriously. With the subprime-mortgage crisis now five years in the rearview, and the statute of limitations kicking in, the SEC is running out of time to demonstrate that it's capable of holding Wall Streeters to account. Tourre is far from the worst actor in the subprime mess, but he left a damning evidence trail, and his alleged wrongdoings are relatively clear-cut. Pundits may want to see Dick Fuld on trial, but getting a shot at Fabulous Fab is the closest they're going to get. If Main Street's housing-crisis catharsis doesn't come now, it probably never will.