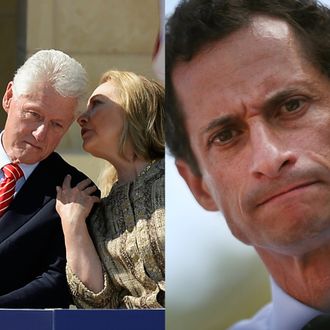 In the days since Huma Abedin defended her husband Anthony Weiner at the infamous Carlos Danger press conference, many have speculated that she is taking cues from her longtime boss and mentor Hillary Clinton, whose willingness to stand by her man in the wake of a sex scandal eventually allowed her to launch a political career of her own. However, it's become clear that the Clintons — who are said to consider Abedin their "second daughter" — are not interested in standing by Weiner themselves. Even before Sydney Leathers emerged with new details about Weiner's sexting problem, Bill and Hillary kept their distance from his mayoral campaign (though Abedin did get a number of their supporters to donate to the cause.) Now, some are saying that the Clintons are among those wishing that Weiner would take himself out the spotlight.
The New York Daily News spoke to some unnamed "friends" of Abedin and the Clintons who claim that the former First Family isn't very fond of Weiner. "They care about Huma and what's best for Huma," said one (subtext: Weiner is not what's best for Huma). A "city Democratic official" was more blunt in his assessment: "Weiner is not close to the Clintons at all. He's like that jerky son-in-law who married in. They do not like him," he said. Another pal dismissed the idea that Weiner's troubles are "tarnishing Abedin and, by extension, Hillary Clinton," though they did say that "there may be personal and emotional implications that causes [the Clintons] to get involved" by telling Weiner to leave the race. And while the Daily News's first source said they didn't think the Clintons would actually try to force Weiner to quit, they can still hope he does it on his own, however unlikely that may be.
"Look, this isn't a story that anybody, particularly the Clintons, are happy to see splashed over the front pages and all over the news relentlessly, and I think they as much as anyone would like to see this go away," said Bill's former White House press secretary Dee Dee Myers on Sunday's Face the Nation. "If they could choose they would certainly have Weiner get out of the race and Huma to get on with their life. It's very painful for the Clintons. They are genuinely very close to Huma."
Regardless of what the Clintons (or others) do or do not want him to do, Weiner (who is now without a campaign manager) is still out there. "You're stuck with me," he said in a Staten Island Advance interview published on Sunday. In addition to discussing issues of special interest to Staten Island residents (bridge tolls, ferry service), he hit most of his post-Carlos Danger talking points (he'll "never stop being sorry" to Abedin; he "maybe" should have explained that his sexting continued after his resignation from Congress, though he maintains that Leathers's material isn't significant because it's "same stuff that's in my background that has now come back.") He also argued that, "I'm going to be a successful mayor because of [the scandal], because it's going to give me a level of independence. I'm not constructing a campaign around the approval of my peers. I'm constructing a campaign around the aspirations of my neighbors." There's no word on what Chelsea Clinton, who lives about six blocks from Weiner and Abedin's place, thinks about that one.