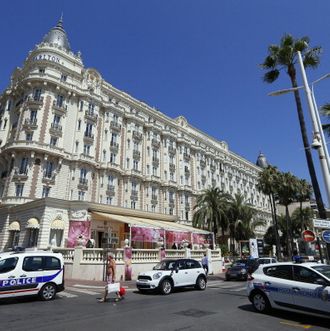 While Cannes is mostly known for its film festival and Mediterranean views, the French Riviera town is quickly gaining a reputation as a place to have millions of dollars worth of jewelry stolen. Back in May, over $1 million in jewelry was taken from a Chopard employee's Cannes hotel room. Less than a week later, a $2.6 million necklace was stolen from a party there. And on Sunday, a "staggering" $53 million in diamonds and other jewels was taken from the Carlton Intercontinental Hotel, which was hosting a temporary exhibit for the Leviev diamond house.

Unconfirmed local media reports said the robber was a single gunman who stuffed a suitcase with the gems and made a swift exit, and a police spokesman told the AP that the heist happened around noon. "It's a huge theft. Anytime you talk about a heist with many millions of dollars it turns heads and feeds the imagination," said Jonathan Sazonoff, editor for the Museum Security Network website, who added that the likelihood of recovering the jewels is slim.
The beauty of Cannes is that thieves can easily escape by sea and quickly sell off what Sazonoff called "high quality minerals." Yet another expert pointed out that today's crime comes days after Milan Poparic, a member of the "Pink Panther" jewel thief gang, escaped his Swiss prison. It seems like there's a screenplay here — and we're sure whoever makes the movie will be invited to premiere it at Cannes.