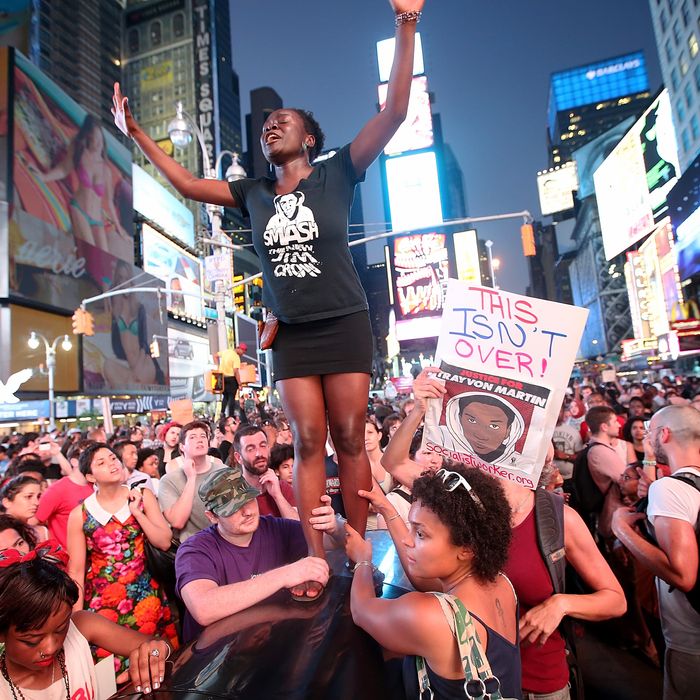 Photo: Mario Tama/2013 Getty Images
The protests that broke out in cities across the country following George Zimmerman's acquittal last night continued into Sunday evening, with New York hosting one of the largest demonstrations. An afternoon rally in Union Square grew to include 1,000 to 2,000 people, who began marching uptown in the early evening, chanting, "Justice for Trayvon Martin" and "No Justice, No Peace." Police made unsuccessful attempts to funnel demonstrators into controlled lanes and stop them at 34th Street, but the crowd made it past them around 9 p.m. Protestors cheered as they reached Times Square, and then a call went out to "Sit down, shut it down!" The impromptu sit-in stopped traffic throughout the area.
In keeping with President Obama's request that Americans "respect the call for calm reflection from two parents who lost their young son," Sunday's protests was peaceful. The NYPD said no arrests had been made.
Here are some scenes from the demonstration:
Update: Things grew more tense later in the night as a few hundred protesters continued moving uptown after reaching Times Square. The Daily News reports that at least five people were arrested around 10 p.m. near Park Avenue and East 71st Street when bottles were thrown at police. Some felt the police grew more aggressive as they approached Mayor Bloomberg's townhouse, and officers in riot gear arrested two more people for disorderly conduct a few blocks away on East 79th Streeet and Second Avenue. "They don't want us near Bloomberg's house," complained one protester.