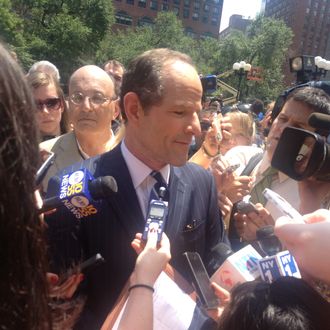 The people want to know.
Photo: Nick Robins-Early
Barely twelve hours after he publicly revealed that he was back into electoral politics, Eliot Spitzer held his first campaign event Monday with the professed aim of meeting voters. The swarm of reporters and cameramen gathered around him in Union Square was so thick, however, and the barrage of questions about his candidacy for comptroller and the sex scandal that drove him to step down as governor five years ago so intense, that he may as well have been inside a bubble.
"New Yorkers, as good souls, have a sense of forgiveness," he said as beads of sweat rolled down his face. It was a hot day, and there were a lot of bodies crushing into a ten-foot radius around him. "Whether that forgiveness extends to me is a whole separate issue … but I'm proud of my record." Wearing a pin-striped suit, Spitzer clutched a clipboard for gathering some of the 3,750 signatures he needs get on the ballot.
Showing none of the fire one might expect from a self-described "fucking steamroller," Spitzer managed to amicably address the more pointed questions about his personal life. He stated that Anthony Weiner's success had little impact on his choice to run — "virtually none at all" — and dismissed questions regarding where his wife was by quipping, "You all know where she works" (at Children for Children, the charity she founded). Asked if the spectacle of his campaign would inevitably swamp his message, Spitzer said he was looking forward to "more sedate moments in the future."
Outside of the crushing gaggle of the press, a small crowd of real-life voters watched as the barely visible politician fielded questions. Andrew Fine, a real-estate broker in a white polo, told Daily Intelligencer he had come down from the Upper East Side after hearing that Spitzer would be making an appearance. Eventually he pushed through the journalists to be the first to sign Spitzer's sheet. Even though he's "not necessarily" going to vote for him, Fine wanted Spitzer on the ballot. "The more choices we have in a democracy the better," he said.
Benjamin Riley, wearing a blue do-rag and Brooklyn block party T-shirt, was already a supporter. He shook Spitzer's hand through the melee and assured him of his vote. "Never mind what he did, that's the past. I did stuff in my past — nobody's perfect," Riley said.
Through much of the event, a heckler was practicing his art from a short distance away. "Stay away from the hoes, Eliot!" he bellowed as Spitzer began to exit the square.
Spitzer ignored the taunts. Still trailed by a dwindling pack of reporters, he walked through the Greenmarket and even did a bit of shopping. At beekeeper Andrew Cote's stand, he laid down $20 to sample some local honey. Then, at last, he made his getaway.