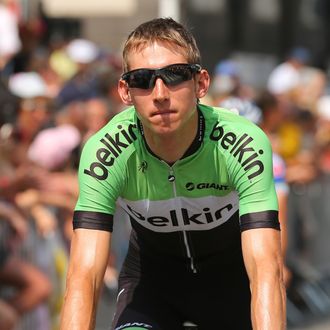 Bauke Mollema.
Photo: Bryn Lennon/Getty Images
There's no more arresting setting for asserting one's dominance over the 100th Tour de France than the wind-swept peak of Mont Ventoux — a peak where winds are so strong no foliage can survive and a climb so steep it notoriously killed British cyclist Tom Simpson in the 1967 Tour. (Simpson, granted, was on amphetamines.) Yesterday, Chris Froome was doing the asserting, and though his lead had previously been far from decisive, he pretty much has this race in the bag now.
With a rumored million spectators lining the road on Bastile Day, the 28-year-old from South Africa (riding for the U.K.) not only extended his overall lead to four minutes and fourteen seconds over Dutchman Bauke Mollema, but he also won the grueling mountain-top Stage 15 finish, after 150 miles in the saddle. The climb was so difficult that as soon as they crossed the finish line, both Froome and second-place finisher Nairo Quintana collapsed on the ground and required five to ten minutes attached to an oxygen tank.
But just as exciting as Froome's dominance has been the changing of the guard behind him.
Andy Schleck, tehnically the winner of the 2010 Tour (after Alberto Contador's win was invalidated because of a doping verdict), cracked soon after starting the climb up Ventoux and finished eleven minutes down on the day. And 2011 winner Cadel Evans also faded off early and is now over fifteen minutes behind Froome overall. They'll be fighting just to make the top ten this year.
Taking their place is a fresh and exciting new guard, including riders like Bauke Mollema, the 26-year-old Dutch climbing specialist who's risen to second place overall thanks to a consistent performance and a talent for capitalizing on the misfortunes of others. Froome's wingman Richie Porte — despite bonking in the Pyrenees and losing eighteen minutes in one day — is a star of the new guard, too. He kicked ass on Ventoux, riding hard enough to drop most of Froome's main rivals, while also placing Froome in a position to attack Quintana, the 23-year-old Colombian now wearing the jersey for the best young rider in the Tour.
In fact, there are almost no names in the current top ten, other than Froome and Contador, that casual cycling fans would recognize. And that's a good thing. This is the cleansing the sport needs: A chance, for instance, to see Alejandro Valverde's teammates sacrificing their own bike parts for their leader after an ill-timed mechanical issue left him stranded without a support vehicle in sight, and then riding like hell to get him back in the race. (He lost seven minutes of time and fell from second place to fifteenth, but it could've been much worse, and the heart that he and the rest of Team Movistar showed was inspiring.) Or to see Quintana, who grew up poor in Colombia riding a used mountain bike, almost winning Stage 15. Or to see Froome tipping his hat to Quintana's efforts, while grimacing through the pain and powering ahead to get the historic Ventoux win for himself. If these guys are riding clean, as they say they are, maybe cycling does have a chance to come out from under the dark cloud of the doping era and go back to the riveting failures and triumphs of pure sport.