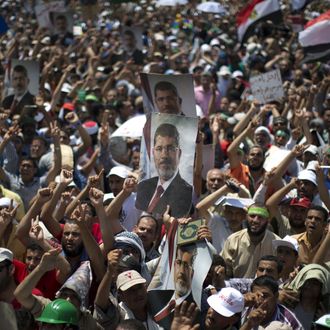 Muslim Brotherhood supporters hold pictures of Mohamed Morsi during a rally outside Cairo's Rabaa al-Adawiya mosque on July 5, 2013.
Photo: MAHMUD HAMS/AFP/Getty Images
Nobel laureate and former U.N. official Mohamed ElBaradei was named interim prime minister of Egypt on Saturday as Egyptians recovered from widespread violence that broke out in the two days since president Mohammed Morsi was removed from power by the military. In a BBC interview on Thursday, ElBaradei defended the military's action, though he called it a "painful measure." "Mr. Morsi unfortunately undermined his own legitimacy by declaring himself a few months ago as a pharaoh and then we got into a fist fight, and not a democratic process," said ElBaradei. A day later, there were literal fist fights (as well as stabbings and shootings) on the streets as Muslim Brotherhood supporters clashed with those celebrating Morsi's removal, leaving more than 30 people dead and 1,400 injured. 
While the State Department said on Friday that it calls on "all Egyptian leaders to condemn the use of force and to prevent further violence among their supporters," Washington seems fairly ambivalent about Morsi's ouster. Though John Kerry got more flak for enjoying various nautical activities while vacationing on Nantucket, the New York Times notes that President Obama spent Friday morning golfing with friends. Both men participated in meetings on the crisis in Egypt at other points during the weekend, but it didn't send the message that they were extremely concerned about Morsi's departure.
In recent months, many U.S. officials had come to see Morsi as incompetent, and weren't thrilled about Egypt being led by the Muslim Brotherhood. Rep. Gerald Connolly of Virginia, a senior Democrat on a Middle East subcommittee, admitted that there's "some relief" about the end of Morsi's rule, though celebrating the toppling of the Egypt's first democratically elected president does cause some pesky issues. "There are a lot of us who are never going to be comfortable with military interventions to overthrow a democratically elected government, even one we have issues with," Connolly added.
It's also possible that the U.S. had more of a hand in Morsi's fate than public statements would suggest. According to the Times' account of the events that ended his rule, on Wednesday an Arab foreign minister called the Egyptian president, claiming to be acting as an emissary from Washington. He asked if Morsi would accept the appointment of a new prime minister and cabinet, but the president refused. Aides say Morsi's foreign policy adviser, Essam el-Haddad, was tasked with making the phone call to deliver Morsi's decision. He wound up speaking with Susan Rice, the national security adviser, who said the military takeover was about to start. A Morsi aide texted an associate, "Mother just told us that we will stop playing in one hour."