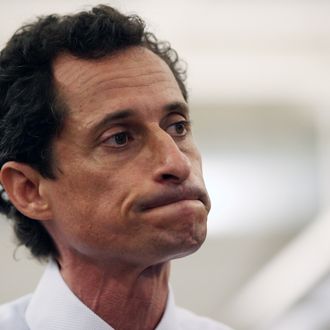 Photo: John Moore/Getty Images
Going into the mayoral race, Anthony Weiner knew full well that Sydney Leathers, along with at least a few other women, had pictures of his junk. He decided to run anyway. But he did, according to the New York Post, try to assess the risk beforehand, assigning the task to his brother, Jason: "He was trying to see if she was going to be a problem," said Lou Colagiovanni, a friend of Leathers'. "He was trying to do damage control." That went well.
"My impression was that [Jason] was trying to smooth her out, make sure there weren't going to be any issues. I got the impression that Weiner and his brother were going around trying to find out if there was anyone who needed to be neutralized," Colagiovanni told the Post.
Jason Weiner has had a public role in Weiner's comeback as well: In April's redemption story in the New York Times Magazine, Jason vouched for his brother, explaining "there was definitely a douchiness about him that I just don't really see anymore." He called Anthony's self-assured "circular reasoning … kind of hubristic," but promised, "He doesn't have that anymore."
In Carlos Danger's messages with Leathers, as published by The Dirty, Weiner is quoted as saying, "Are we ok? my brother emailed me asking about you and whether I pissed you off. he told me to look at your [Facebook] feed, but nothing seems about me. maybe he was just tallying up pro and con comments and took one of your pithy posts as being something bad about me."
Leathers "got freaked out" when Jason contacted her, Colagiovanni said, but ultimately devised a plan: "I'm not going to lie, my initial response, as a business person, was, 'This is a business opportunity,'" he admitted. "And she, from the very beginning, said, 'I'd like to get something out of this.'"
Asked by the Post about Jason's involvement, Weiner's campaign spokesperson Barbara Morgan said "he did not check her FB," which is a pretty narrow denial. She added, "Do you even fucking know how Facebook works?"
It's been a long week.
Update: Jason Weiner, in a phone call with Daily Intelligencer, denied Colagiovanni's claims. "There's not one shred or iota of truth in that story," he said. "I never contacted her ever in any way, for my benefit or for anyone else's benefit. I never heard or knew the name Sydney Leathers, or anything like it, until two days ago." As for the message to Leathers in which Anthony Weiner refers to his brother, Jason said, "I don't want to comment on the messages."