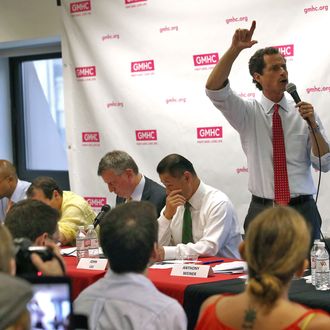 Photo: John Moore/Getty Images
Anthony Weiner's latest sexting scandal may have cost him any remaining credibility with New York City journalists, but following his mea culpa press conference, the mayoral hopeful proved he can still work a room of voters like a champ and showed no signs that he was ready to bow out of the race. The rapturous applause he garnered time and again from the few dozen activists — many of them young black and hispanic men — at a forum on HIV/AIDS and other LGBT issues Tuesday evening in Chelsea made for a stark contrast with the sense of outrage emanating from the hundred-plus reporters who had crowded around him and his wife just minutes prior, during their press conference. And it outlines the path he can be expected to follow as he seeks to remain a factor — if not a viable contender — right up until the Democrats pick their candidate in September.
"There is no incentive for him to get out at this point," says one New York Democratic political operative unaffiliated with any of the campaigns. "You're in, you're on the ballot, and you've already been through all the pain and torture." Huma Abedin, a famously private woman who is probably Hillary Clinton's closest personal aide, has invested herself totally on her husband's behalf, having stepped up her role on the campaign trail in recent weeks after providing a nice fund-raising boost early on.
If nothing else, Weiner's legislatively unproductive but rhetorically bountiful congressional career gave him a chance to hone his skills as a retail politician. Weiner was in the zone at Tuesday's forum, hosted by the Gay Men's Health Crisis, mixing his Brooklyn wiseguy mantra with now familiar stories of early advocacy for gay rights despite hailing from a conservative district. "When I ran in 2005, when there was a little upstart with the local parade on Staten Island, a gay pride parade on Staten Island, where people said, 'Wait a minute, there are no queers on Staten Island.' I was out there marching with them!" Weiner said in one of his many crowd-pleasers.
Perhaps not coincidentally, the crowd that he was so successfully working skewed toward his most favorable demographic groups. In a Siena/New York Times poll conducted prior to these latest revelations, blacks and hispanics were more likely to say that he deserves a second chance than whites, as were men than women, and younger voters than older ones. 
His Democratic rival Sal Albanese was the only candidate to even obliquely refer to the new sexting details when he opined in his opening remarks, "It's unfortunate we've had this distraction, the latest psychodrama with Weiner." And while Public Advocate Bill DeBlasio is now calling for Weiner to get out — pleas he reiterated in remarks after the debate — none of the major Democrats in the field seem especially comfortable playing the role of Puritan buzzkill in a city that prides itself on being fearlessly liberal.
In fact, Weiner wasn't even the wildest candidate at the debate, where Randy Credico, a comedian and drug reform activist who doesn't usually get the invite to such forums, was intent on claiming that mantle. "His scandals are nothing! What happened with Weiner is nothing!" he exclaimed after joking that he "tried cocaine for 25 years and didn't like it" and announcing plans to replace Ray Kelly with Frank Serpico as the city's police commissioner.
Weiner's hopes at this point may rest on the city's voters being in the mood for a nice, long laugh after a decade with a stuffy billionaire technocrat at the helm, as well as his own ability to continue what had been a dogged focus on the issues in recent weeks. "I want to thank, all kidding aside, all the members of the media who hung around to see this debate go on," he said, anticipating the emerging consensus that his candidacy stands in the way of any serious discussion of the city's problems. "My colleagues and I have a lot of ideas."
Here's video of Weiner facing the media scrum yesterday: