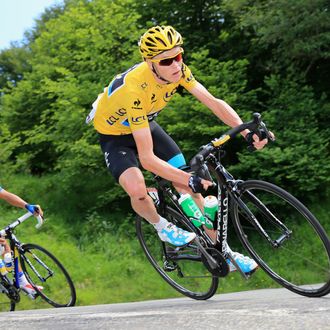 Chris Froome.
Photo: Doug Pensinger/Getty Images
For the first time since the ridiculous, wildly entertaining opening day of this year's 100th Tour de France a week ago, when a bus got stuck under scaffolding, blocking the finish line and leading to massive confusion and three bloody pileups, the oldest bike race in the world is getting pretty interesting again. Saturday's Stage 8 saw the prerace favorite, 28-year-old Kenyan-born British rider Chris Froome, crushing struggling former TDF winners Alberto Contador and Cadel Evans on the first set of climbs through the Pyrenees, like back in the day when a certain American fallen hero did the same thing — powered, we now know, by something other than pure will. (Froome insists he's riding clean and is on a mission to show that the sport has changed.) Then the very next day, Froome nearly lost it all.
His Team Sky fell apart on Sunday's Stage 9 over five brutal climbs in the Pyrenees. One by one, his right-hand men cracked, unable to keep up with the pace of the field, and dropped off, leaving the yellow jersey fending for himself, solo, among hungry rivals plotting his demise. Froome won out in the end: He's still in yellow and has a minute and 25 seconds lead over his nearest competitor, Spaniard Alejandro Valverde. But he's been proven vulnerable and will surely be attacked on all sides in stages to come. Froome's ascent and near-implosion have shown just how essential teamwork is to winning the Tour de France. As Froome himself said following Stage 9, "If anything was shown today, it was that there are a lot more tactics to bike racing than going uphill fast and time trialling fast."
The Tour is essentially a three-week endurance test broken down into 21 single-day stages. There's plenty of glory (and money) to be found in winning an individual stage, but it's the guy who makes it to the final finish line in Paris with the lowest cumulative time who becomes champ. Only maybe ten guys of the 198 riders who started the Tour a week ago are well-rounded enough to vie for the overall win.
What sets these general classification riders, like Froome, apart from the rest of the field is a combination of being good at time trials (since every second counts), being good in the mountains (the hardest part of the Tour and what separates the contenders from the also-rans), being aggressive (knowing when to attack and exploit their opponents' weaknesses), being strategic (controlling the pace of the field and making sure no one with GC hopes gains too big a time gap), and being lucky (not getting delayed or seriously injured by crashes or mechanical failures).
But cycling seems so geared around individual triumph that it can be hard to understand it's actually a team sport. It's rare if not impossible for a GC contender to win the Tour without a strong support system behind him. Teams are usually built around a single GC leader, the guy with the strongest chance of lasting till the end. Around him are worker-bee domestiques, the equivalent of wingmen, usually strong climbers in their own right whose job is to exhaust themselves wearing down other contenders so their fearless leader can maintain his strength long enough to crush his rivals at the right moment.
Froome's Team Sky, for instance, rode at the front of the peloton in Stage 8, setting a blazing pace up steep mountains that only five men, including Froome and right-hand man Richie Porte, could keep up with. Porte continued to pace Froome, motivate him, and protect him by allowing Froome to draft off his wheel until Porte peaked and Froome had to take matters into his own hands in the final mile of the stage, gaining 51 seconds on Porte, who came in second. Froome also ended the day 1:25 ahead of Valverde, 1:51 over Contador, and 4:12 over Evans, which essentially places the 2011 winner out of contention.
But the next day's Stage 9 showed what happens when teamwork falls apart. The expectation was that, having won the yellow jersey, Froome's Team Sky would ride strong at the front and protect his lead. But on the second of five climbs, Porte, exhausted from his efforts the day before, cracked, losing eighteen minutes on the day and dropping from 2nd to 33rd place overall, which means he has basically no shot at a podium finish. It also significantly weakens Team Sky, and therefore Froome, who were counting on having two podium contenders to wear other teams down.
"Yesterday was my day and today was probably the worst day I have had on the bike all season," said Porte afterward, admitting Team Sky had gotten their "arses" kicked. In addition, another strong climber on Team Sky, Vasil Kiryienka of Belarus, was so far behind he missed the time cutoff and was eliminated from the race entirely, which is a pretty devastating blow to Froome's support system given that they're only one week in and there are many more mountain stages to go. Froome's only saving grace was that the two teams driving the pace in Stage 9, Valverde's Movistar and Contador's Saxo-Tinkoff, couldn't get it together to attack him properly. Their mistake? Attacking him on the uphills (when he could respond to individual bursts) rather than on downhills or flats between mountains (when a single, isolated rider would have much more trouble keeping up with a group determined to bring him down).
Froome knows firsthand how important teamwork is on the Tour: He's the former domestique of last year's winner (and Olympic champion) Bradley Wiggins, who's out for the season, and perhaps the rest of his career, with a knee injury. At certain points last year, Froome seemed to have better legs than Wiggins but sacrificed himself to serve his team leader. In the end, he finished a very impressive second place, which means he managed to dominate the rest of the field while simultaneously exhausting himself for Wiggins's win.
Now that he no longer has to work for anybody but himself, the expectation is that he'll prove even more dominant. So far, he's avoided crashes and proven his worth in the mountains. Plus, he's among the strongest time-trialists in the Tour, having won bronze at the Olympics last year and come in second in the time trial for the Criterium du Dauphine, a pre-TDF stage race he won, beating Contador.
But for Froome, with his team having already imploded and with Contador vowing that "Of course I'm going to try something," the yellow jersey is far from a done deal.