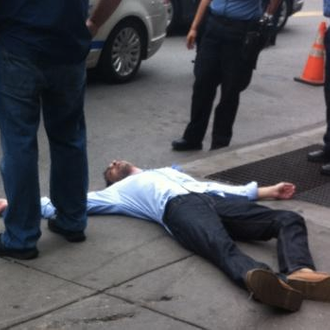 An unidentified white man was knocked out after yelling racial slurs at a black couple in the West Village on Friday evening. Witnesses to the incident told the New York Post that 25-year-old Douglas Reddish and his girlfriend were having dinner in the outdoor seating area of the Greenwich Avenue Benny's Burritos when the man — who had been "belting back beers" nearby, according to the New York Daily News — stumbled into their table. The police say that when Reddish tried to help him up, the guy shouted, "This n—-r wants to fight me!" A Daily News witness said he added, "You n—–s are why I lost my job." (A woman who claims to have talked to the man before the incident told the Post that he was "upset over his wife leaving him and about his job at Goldman Sachs.") Reddish then punched him.
The man fell backward onto the sidewalk and hit his head on the ground, resulting in a bloody wound. "He was lying on his back unconscious with his arms and legs spread out," another witness told the Daily News. Reddish fled the scene, though he was arrested a few blocks away and charged with assault, according to CBS New York. The racist guy is reportedly in critical condition at a New York hospital.
Update: Officials now say that the still unidentified man is in stable condition.