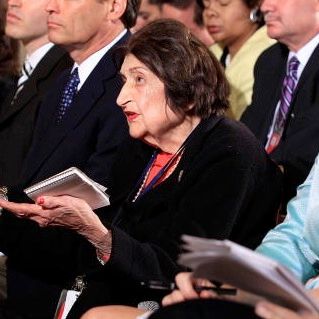 Journalist Helen Thomas, whose time in the White House press corps spanned nine presidencies, died Saturday morning at 92. Thomas, who was born in Winchester, Kentucky to Lebanese immigrants, started her career in 1942 as a copy girl at the Washington Daily News, but quickly moved on to United Press International wire service, where she wrote radio scripts and covered federal agencies. In 1960, she was assigned to report on President Kennedy's campaign, and she covered the White House for UPI and, later, Hearst Newspapers well into her eighties. Known for her energy and eagerness to ask leaders tough questions — she was often referred to as the "dean" of the press corps — Thomas was the first woman to be named White House bureau chief of a major wire service, the first female member of the Gridiron Club, the first female president of the White House Correspondents' Association, and the first female officer of the National Press Club. She was forced to retire in 2010 after remarking that Jews should "get the hell out of Palestine" and return to "Poland, Germany, America, and everywhere else." (She apologized for the comments.)
Her pointed queries often agitated the powerful, but she was also lauded for asking questions "almost like a housewife in Des Moines would ask," a colleague once said. She asked President Richard M. Nixon point-blank what his secret plan to end the Vietnam War was, and she asked President Ronald Reagan what right the United States had to invade Grenada in 1983. When President George H.W. Bush announced that the defense budget would remain the same after the collapse of the Soviet Union, the fall of the Berlin Wall and the disappearance of communism in Europe, she succinctly asked, "Who's the enemy?"

Ms. Thomas had a number of scoops, including her exclusive interviews with Martha Mitchell, which helped expose some aspects of the Watergate scandal. Mitchell, the wife of Attorney General John Mitchell, told Thomas in late-night phone calls that she had seen a Nixon campaign strategy book that included plans for Watergate-style operations. Thomas also broke the story that Nixon's speechwriters were working on a resignation address that he would give the next day.
Thomas later became sharp critic of George W. Bush and the  Iraq War. In 2003, Bush heard that she'd told another reporter that he was "the worst president in American history," and he did not call on her at a press conference for three years. She criticized fellow journalists for being too soft on the Bush administration, though she also complained about the Obama administration's attempts to control the press: "What the hell do they think we are — puppets?" she said. "They're supposed to stay out of our business. They are our public servants. We pay them." She did, however, accept some cupcakes from Obama on their shared birthday in 2009: