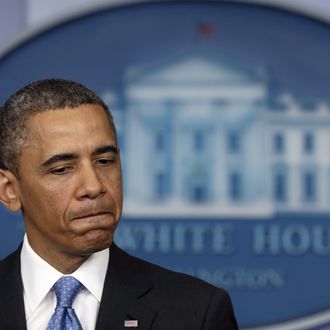 Photo: Alex Wong/2013 Getty Images
The final hours before a long holiday weekend are a fine time to dump unpleasant information, and the Obama administration's announcement in a Treasury Department blog post late on Tuesday was a doozy. Enforcement of the controversial Obamacare provision that requires companies with more than 50 employees to provide health coverage or pay a penalty will be delayed by a year. The individual mandate will still go into effect in 2014, but businesses won't face the $2,000 per uninsured employee fee until 2015. The administration says it's just helping out business leaders, who complained about the "complexity of the requirements and the need for more time to implement them effectively." However, Republicans are already gloating.
Conservatives have long claimed that the employer mandate will hurt the economy, and some business owners have threatened to cut workers' hours to keep them below full-time (defined as 30 hours a week in the legislation) and avoid penalties. The decision means the provision won't go into effect until after the midterm elections, so some are accusing President Obama of pushing off the employer mandate showdown for political purposes.
On Tuesday night, most Republicans took a different route, declaring that the move is evidence that Obamacare is a hopeless mess that must be repealed. "The president's health care law is already raising costs and costing jobs," said John Boehner. "This announcement means even the Obama administration knows the 'train wreck' will only get worse. I hope the administration recognizes the need to release American families from the mandates of this law as well. This is a clear acknowledgment that the law is unworkable, and it underscores the need to repeal the law and replace it with effective, patient-centered reforms." Mitch McConnell echoed that sentiment, saying Obamacare "isn't working the way the administration promised," and the White House "seems to slowly be admitting what Americans already know."
The delay will probably raise the costs of Obamacare, since people who work at companies that would have been pressured to offer health benefits will have to buy insurance elsewhere in 2014. They may qualify for government subsidies, and the government won't be collecting penalties from businesses to offset that cost. And there's another consequence that may affect the health and well-being of the American public. The New York Times notes, "Republicans' gleeful reactions made clear that they would not cease to make repeal of Obamacare a campaign issue for the third straight election cycle."