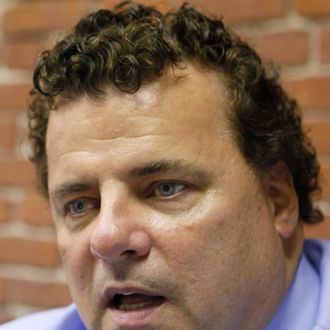 Kevin Weeks
Photo: Stephan Savoia
The language in the trial of alleged Boston crime boss James "Whitey" Bulger has already been cause for great fascination by those who like outdated slang. On Tuesday, the off-the-cuff phrasing got a little more current, or at least timeless, as Bulger and his former protégé Kevin Weeks exchanged what the New York Times reports were their first words in 16 years. "We killed people that were rats and I had the two biggest rats right next to me," said Weeks, a government witness who has testified that he saw Bulger kill five people. That's when Bulger lost it, per Boston.com:
Bulger: "You suck."

Weeks: "[Expletive] you, okay."

Bulger: "[Expletive] you, too"

Weeks: "What do you want to do?
Judge Denise J. Casper cut them off before they could argue any further, but you don't have to be a historical linguist to understand the size of the grudge between these two.