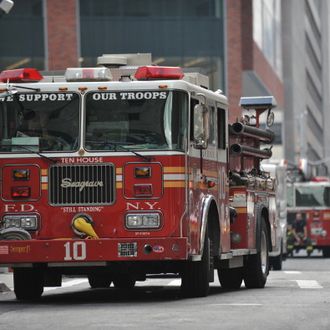 New York City Fire Department engines that responded to reports of a fire at the One World Trade Center tower drive down a street on August 8, 2012 in New York, that turned out to be a false alarm. Dozens of New York firefighters rushed to the World Trade Center skyscraper early Wednesday after a member of the public mistook welding for a fire. Initial reports from the New York Fire Department suggested a minor blaze on the 88th floor of One World Trade Center, the centerpiece in the project to replace the Twin Towers destroyed in the September 11, 2001 terrorist attacks. A spokesman told AFP the fire was brought under control in less than an hour.
Photo: STAN HONDA/AFP/GettyImages
There are some famously dumb 911 calls, and then there are straight-up awful ones. Calling in fake emergencies in order to empty out firehouses to steal cash from absent firefighters — as the FDNY's Joseph Keene allegedly did — definitely counts as the latter. Police eventually traced the calls to Keene's cell phone, and he was caught on video entering a Queens firehouse, the New York Post reports. So, actually, it would appear that his fake calls were dumb, awful, and not worth it, as he now likely stands to lose his job over the thefts, which only brought in around $2,000.