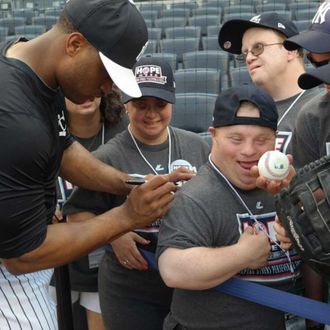 The softer side.
Photo: New York Yankees
The New York Yankees are, in some ways, one of most transparent businesses imaginable. Their product is up for public inspection at least 162 days a year; after every game, manager Joe Girardi is cross-examined about the decisions he made in the previous three hours. But the inner workings of the Yankees — the company — are famously well hidden. Recently, though, the club offered a behind-the-scenes view of how one of its signature events gets put together.
 
The Yankees fifth annual Hope Week started Monday, but the planning for the unique charity showcase goes year-round. Nominations for worthy causes to spotlight pour in: Cancer victims. Kids with rare, incurable conditions. Homeless families. Only five can make the cut each year, and it's up to Jason Zillo, the team's public relations director, to make the tough choices: Should the Yankees help a program that teaches the wheelchair-bound to dance, or a group of special-needs kids whose lives have been torn apart by Hurricane Sandy?
Zillo — who also helped design Mariano Rivera's creative "farewell tour" visits with fans when the Yankees are on road trips — came up with the Hope Week concept in 2008. The Yankees, as a franchise, have long donated millions to charitable efforts. And just about every individual Yankee player has a charitable foundation. Zillo's insight was that the team could leverage its fame to generate publicity for small organizations trying to make a difference. So several weeks ago he was sitting in his office, down the hall from general manager Brian Cashman, leading a staff meeting that tried to separate the noble from the merely heart-tugging, and sorting through logisitics: Can Delta fly in a dialysis patient? Would the Yankee Stadium grounds crew get upset by an on-field dog walk? A key part of the event is surprise visits by Yankees players to the honorees — on Monday afternoon Ivan Nova, David Adams, and four others went to Rockaway and thrilled a group of disabled athletes — so cover stories need to be concocted.
One of this year's guests, however, is coming from Oklahoma, and he needs to be onboard from the beginning. "Kirk Smalley's son will always be 11 years old to him," Zillo tells his staff. "He'd been bullied at school for years, and one day he came home and shot himself." There's a long silence. "So, um, that's, uh, something you never even want to think about." Smalley now travels the country talking to kids about how to avoid similar tragedies; the Yankees, on Friday, will fly him in for a speech to 1,000 people at the stadium and present Smalley, like all of the other Hope Week honorees, with a check for $10,000.
 
Certainly Hope Week generates goodwill for the Evil Empire. But the Yankees don't need help selling tickets. "You want to leave a footprint somehow," Zillo says. "And I thought we could do something really big using the might of the Yankees brand — whatever that means — to help shine some attention on worthy people, and do something more powerful than sending them an autographed baseball." After one Hope Week, Zillo got a letter from a writer who said he still didn't like the Yankees, but he appreciated that the team was doing a good thing. "It was from a Red Sox fan," Zillo says with a laugh. "That may have been the ultimate compliment."