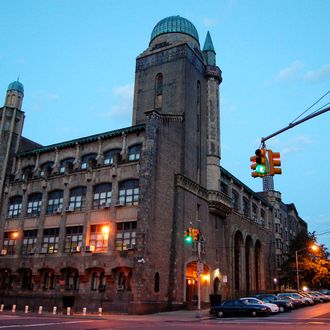 The chancellor of Yeshiva University, criticized for his lack of action when decades-old sexual abuse allegations at the university's high school came to light last year, resigned on Monday in an apologetic letter acknowledging his response to the allegations fell short. Norman Lamm, who worked at Yeshiva for 60 years, was the university's president from 1973 to 2003, when he became chancellor. He wrote that he was retiring according to a plan conceived three years ago. But much of his letter of resignation refers to abuse allegations dating to the seventies and eighties, reported by the Jewish Daily Forward in December. And his tone has changed since then. "True character requires of me the courage to admit that, despite my best intentions then, I now recognize that I was wrong," Lamm wrote.
The Forward spoke with former students, who said a teacher and the principal at the Yeshiva University High School for Boys had inappropriate conduct with them, including wrestling with sexual undertones and alleged sodomy with a toothbrush. Lamm, who knew of the allegations at the time, removed the faculty members but didn't alert their subsequent workplaces and didn't call the police. "My question was not whether to report to police but to ask the person to leave the job," he told the paper last year. "This was before things of this sort had attained a certain notoriety. There was a great deal of confusion."
On Monday, Lamm was far more contrite:
At the time that inappropriate actions by individuals at Yeshiva were brought to my attention, I acted in a way that I thought was correct, but which now seems ill conceived. I understand better today than I did then that sometimes, when you think you are doing good, your actions do not measure up. You think you are helping, but you are not. You submit to momentary compassion in according individuals the benefit of the doubt by not fully recognizing what is before you, and in the process you lose the Promised Land.
Kevin Mulhearn, a lawyer representing former Y.U.H.S. students who say they were abused, told The Forward on Monday that Lamm's mea culpa was "a positive first step, but only a first step." He continued: "The conspiracy of silence at Y.U. involves many high-level administrators, not just Rabbi Lamm. It is the institution as a whole, not just one man, which needs to make amends." The statute of limitations for the alleged crimes has expired.