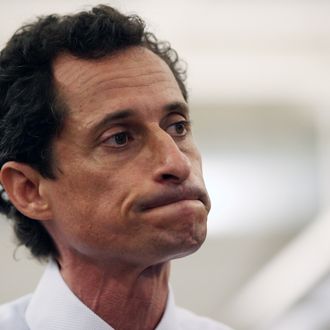 Photo: John Moore/Getty Images
The Daily News has compiled a reel of all eleven mayoral candidates, many of whom most people have never heard of, and asked them each to tell a joke. The results are, at best, mixed, but at least they were all good sports. Well, everyone except for Anthony Weiner, who has already provided enough jokes during this election and, when asked, responded dismissively, "I'm not a very jovial guy."
We've ranked the rest of them, from worst to best, because at least they tried.
10. George McDonald
The little-known independent candidate told an old story about the mayor of Albany, who was notoriously evasive with the press, saying his favorite color was plaid. That's not the way to get people to pay attention to you. 
9. Erick Salgado
When you're Erick Salgado (who?) maybe don't tell a joke about an owl.
8. John Catsimatidis 
The Republican Gristedes owner told two short jokes ("One melon says to the other, 'Can't elope'" and a "dirty joke: Two beautiful white horses are coming down the street, and they slip and they fall into a bunch of mud"). Both probably came from Popsicle sticks. 
7. Joe Lhota
He also doubled up, first poking fun at his Republican rival's supermarket and then going with the old mushroom-in-a-bar line, "I'm a fun guy." Lhota does not seem like a fun guy.
6. Adolfo Carrion, Jr. 
He, too, went with the mushroom, but points for delivery.
5. Bill de Blasio
The big liberal remixed the classic Carnegie Hall line ("practice") with Gracie Mansion: "Forums, forums, forums." We get it, you're working hard.
4. John Liu
His long, awkward joke about the Pope ended the best way it could: without a punch line about Catholics.
3. Christine Quinn
The difference between Fenway Park hot dogs and Yankee Stadium hot dogs? "You can get Yankee Stadium hot dogs in October." A front-runner joke if we've ever heard one, but kudos on the confidence.
2. Bill Thompson 
"How long does it take Mike Bloomberg to screw in a lightbulb? Three terms." (He lost to Bloomberg last time, remember?)
1. Sal Albanese
"I have a problem with political jokes: Too often they get elected." And scene.