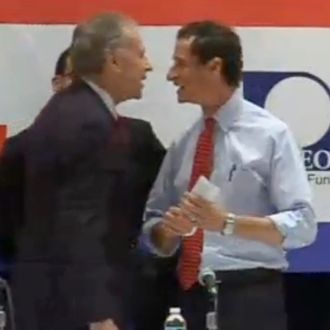 Anthony Weiner was baited into acknowledging the presence of beyond-a–long shot mayoral candidate George McDonald yesterday when the obscure Republican got inches from his face to talk smack. Now Weiner, who responded by calling his 69-year-old aggressor "grandpa," is the one being forced to explain. Because Carlos Danger just can't catch a break, the face-off happened to occur at an AARP forum, and the group is not pleased, calling the "comments regarding age unfortunate" in a statement. Weiner, as usual, has a poor explanation.
This morning on the radio, Weiner said he used "grandpa" because McDonald "talks about his granddaughter in every answer on the campaign trail." But as the New York Post noted, he left out the context: McDonald, who everyone first noticed when he called Weiner a "self-pleasuring freak," said at an event last week that Weiner was making his family life awkward. "This past weekend I had a very uncomfortable conversation with my 10-year-old granddaughter Emma because she wanted to know why is this Anthony Weiner famous? 'Why is he a celebrity, grandpa?' And I honestly couldn't explain," he said.
While McDonald figured out that being a dick to Weiner will finally get the media to pay attention to him, engaging at all is a loss for Weiner, for whom the high road is apparently under construction.