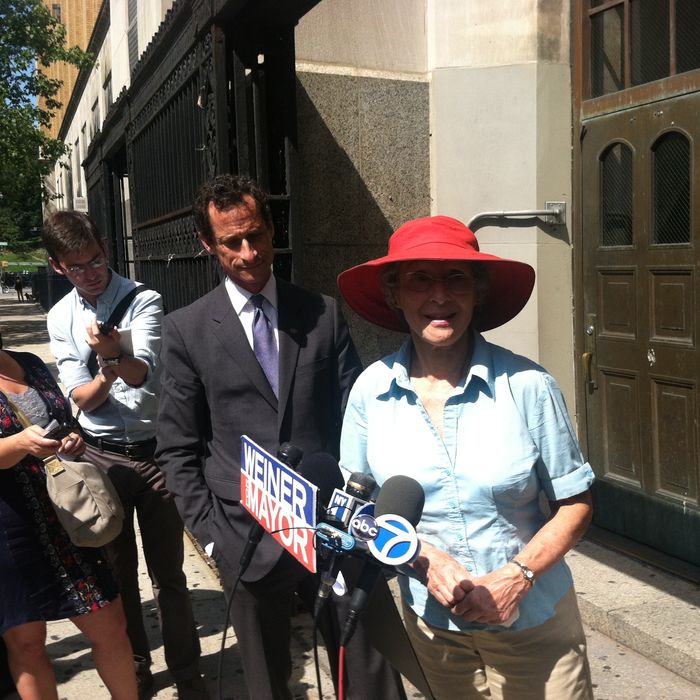 Frances Weiner, a 30-year veteran of the city's public school system, appeared with her son at a press conference outside of his alma mater in sunny Fort Greene on Thursday afternoon and vouched for the serial sexter's commitment to helping city educators despite having been snubbed by the politically potent teachers' union.

Standing in front of the entrance to Brooklyn Tech high school, Anthony — who conceded that he was more dressed up than usual because of Mama Weiner's presence — called for a "boot camp" in the summer to give teachers extensive exposure to new Common Core curriculum standards adopted by dozens of states, as well as a "Master Teacher" academy where union retirees might provide counsel to up-and-comers.
"It hasn't been a particularly creative conversation," he lamented of the education debate thus far. "It's been basically saying whatever is necessary to appeal to institutional endorsers."

Frances, sporting a big red hat, was decidedly on-message, unwilling to answer questions about the dick-pic imbroglio that has essentially cratered her son's candidacy, and instead emphasizing his knowledge of the challenges teachers face on the job.

"All of my friends that are teachers are supporting Anthony, because they know him," she said, confident that "presenting him to the world" would be sufficient to boost his flagging candidacy. 
Apparently he hasn't "presented" enough already.