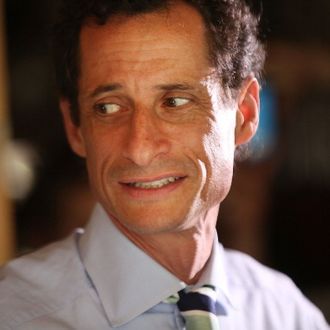 "I hope I deleted those MySpace messages."
Photo: Spencer Platt/Getty Images
According to Politicker, Anthony Weiner dated a staffer nearly two decades his junior before he started seeing Huma Abedin … and that's it. The relationship allegedly began in 2006 or earlier, and since Weiner didn't sign up for Twitter until several years later it's unlikely that any mortifying sexual banter took place on social media, if at all. The evidence for the relationship basically consists of the pair being seen together at odd hours, "openly flirting and behaving unlike any other staffers," and one anonymous ex-aide declaring, "You'd have to be an idiot to not know what was going on." It's exactly what anyone at SCDP would say about Peggy Olson's relationship with Ted Chaough mid-Mad Men season six (er… before they turned out to be right).
Dolev Azaria, who turned 24 in 2006, was unusually close to Weiner, who turned 42 that year. Azaria worked for Weiner on and off from 2001 to 2011, during which time she rose from being a part-time staffer to being his campaign-finance director, working on his mayoral and congressional campaigns. She remained on the payroll for three months after Weiner's resignation, and her salary was increased from from $6,318 to $8,500. Weiner spokeswoman Barbara Morgan explains the apparent raise is the result of confusion over payroll taxes, and Azaria was "the last person on staff," tasked with shutting down Weiner's office and campaign.
Both parties vehemently deny that their relationship went beyond friendship. After her lawyer sent a cease-and-desist letter to the Observer, Azaria said in a statement, "Anthony was my boss and a mentor and we remain friends to this day. There was never anything inappropriate about our relationship. I'm saddened that rumors to the contrary would imply anything else." Morgan called the New York Observer's editor in chief to push back against publication of the story. She admitted they "had a personal relationship," but Politicker says, "At that point, Ms. Morgan stopped mid-sentence to request the conversation be continued off the record." Whatever she said is probably too filthy to print anyway.
As one source complained, if Weiner did have a secret relationship with an employee, "That's not appropriate and I think not something that represents smart, sound judgement." That's true, it's just hard to get excited about a conventional sex scandal when we've seen far more conclusive (and graphic) proof of Weiner's lack of sound judgement.
This story has been updated throughout.