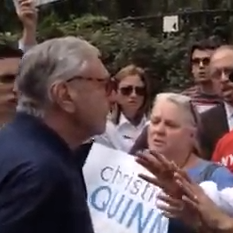 The 2010 closing of the West Village's St. Vincent's hospital remains an emotional issue for many longtime New Yorkers, as attendees of a rally organized by Christine Quinn's mayoral campaign were reminded on Monday. Quinn herself did not appear at the event, which took place outside the demolished hospital and was intended to give her surrogates a chance to knock opponent Bill de Blasio's supposed inaction on saving St. Vincent's. But Politicker reports that a group of chanting anti-Quinn protesters quickly drowned out the candidate's supporters. At one point, George Capsis — the publisher of West Village monthly WestView News, who is "known for causing scenes at local meetings" — slapped State Senator Brad Hoylman in the face. And when a college-aged Quinn volunteer tried to pull Capsis away from Hoylman, he "used both hands to grab and slap" him too.
Captial New York captured the first slap on tape:
Later, Capsis attributed his slapping spree to anger over the hospital's closure and his wife's recent death from lung cancer. "I have so much pent up anger. If you bring [the volunteer] over here, I'd hit him again," he told DNAinfo. "My wife died two days ago. She was at a hospital in the Bronx. I had to travel an hour and a half to get to see her. If this hospital had existed, I could have walked two blocks and spent time with her in the last hours of her life." Sometimes a weird campaign-trail incident is really just a sad story.