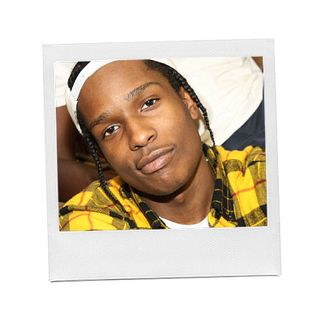 A$AP Rocky.
Photo: Bennett Raglin/BET/Getty Images
Name: A$AP Rocky
Age: 24
Neighborhood: Harlem-born, "but I now reside elsewhere in Manhattan."
Occupation: Rapper. His "F**kin Problems" featuring Drake and Kendrick Lamar is nominated for Best Hip-Hop Video this Sunday at the 2013 MTV Video Music Awards. 
Who's your favorite New Yorker, living or dead, real or fictional?
Bishop from Juice. I think the character's whole rise and demise is comparable to my story line: Harlem-native kid, 40 Below Timberlands, ditching school, smoking weed, fucking bitches … But he can live vicariously through me because I didn't make the same mistakes he did. I didn't die.
What's the best meal you've eaten in New York?
I don't know, because I don't eat how I used to eat — I've been a pescatarian for the past two years. It started out for health reasons, but now I just don't fuck with meat. Plus, if I say where I go, then people are gonna show up, so I don't wanna say nothing, you know? And it's not little girls. It's fucking grown-ass men. It's weird. 
In one sentence, what do you actually do all day in your job?
What I want.
What was your first job in New York?
I've never had a job in New York. Growing up I did stuff that I'm not proud about, but I don't consider that a job. It was a hustle.
What's the last thing you saw on Broadway?
I saw something when I was probably, like, 6. It was some Christmas thing that my grandmother took me to. I would love to go. Are you gonna take me? Is that a date? I'm down for anything — fucking Phantom of the Opera, fucking Lion King … I'm so serious.
Do you give money to panhandlers?
Yeah, I actually do. It takes a lot of courage to sit there and play your instruments in front of people who didn't ask. To sit there and not worry about people judging you — I respect that because I know what that position is like. So I always try to help out.
What's your drink?
Water. I drink a lot of water. A few bottles a day, usually Voss. Norwegian is the purest. Second to that is SmartWater — I like the way it's manufactured. I don't fuck with Fiji water. Not to be picky or anything. I'll drink some off-brand shit if I'm thirsty.
How often do you prepare your own meals?
Not often at all. I don't know how. If I had to make something, though, I'd probably get my black ass into the kitchen and make breakfast. [Laughs.]
What's your favorite medication?
Weed. And promethazine codeine. [Sings] That purple drank.
What's hanging above your sofa?
A big-ass painting of fire by Ssur. You know that brand Commes des Fuckdown? That's actually an artist called Ssur. It's a painting by him.
How much is too much to spend on a haircut?
Shit, man, I spent like $300 one time. That's way too much. I didn't even get a haircut, I just got it braided in my hotel room.
When's bedtime?
Whenever I fall asleep. I'm so serious.
Which do you prefer, the old Times Square or the new Times Square?
I don't know. Of course everybody prefers the old things because of the memories, but the new Times Square is dope. It's culture.
What do you think of Donald Trump?
I don't know what to think of Donald Trump. I don't know him; he's richer than me. I don't have no business talking about him.
What do you hate most about living in New York?
Traffic. And bad drivers.
Who is your mortal enemy?
Negative people. Racist people.
When's the last time you drove a car?
Probably, like, last month, in L.A.(I'm bi-coastal now). I've been driving since I was 18. Me and my best friend taught each other how to do it on the street in Harlem.
How has the Wall Street crash affected you?
I mean, it really didn't. To an extent it affects all of us, but personally in a dramatic way I don't see much of a difference.
Times, Post, or Daily News?
All three, delivered. And WorldStarHipHop.com.
Where do you go to be alone?
Out of the country. Berlin's one of my favorites. I'm just out there riding bikes and pretending I'm European and trying to fit in.
What makes someone a New Yorker?
You gotta be born here. Born and lived.