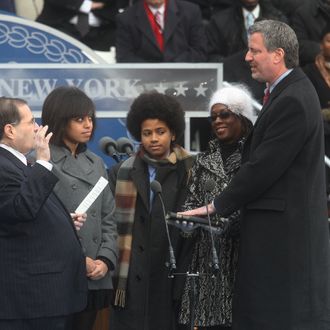 Bill de Blasio: Too good at fathergood to be mayor?
Photo: Hiroko Masuike/2009 Getty Images
It's been hard for New York City candidates to get any attention this summer without some morally depraved and possibly illegal skeletons in their closet. In fact, the Post digging up some dirt on Bill de Blasio could actually do him some good — so it's too bad the latest scandal is so damn wholesome. Several sources allege that while the mayoral candidate was a member of the City Council from 2002 to 2009, he'd sometimes have staffers pick up his kids from school or watch them at his home. (They're now 15 and 18.) Though forcing employees to perform occasional childcare obviously isn't cool, de Blasio comes off sounding like a pretty involved dad — and his office responded by providing seven former staffers who denied the story. "To the contrary, I remember many days when Bill carefully arranged his schedule in order to pick them up himself and take care of them himself," said Josh Wallack, de Blasio's legislative director during that entire time period. Let us know if they find some evidence of drunken and drug-fueled legislation-writing sessions.