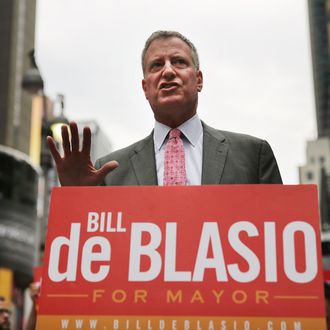 Photo: Spencer Platt/Getty Images
Now that people are paying close attention to mayoral contender Bill de Blasio, all of the skeletons are coming out: The Manhattan-born, Cambridge-raised politician has a "deep devotion" to the Boston Red Sox, he confessed to the New York Times today. "I have my loyalty to the team of my youth," he said. "Everyone I knew was a Red Sox fan." Painfully on-message, de Blasio explained, "The team that I grew up with was constantly the underdog but managed to prevail," but promised that as mayor, he would be "very happy to celebrate any New York sports team."
After initially presenting himself as a Red Sox fan, Mayor Bloomberg, also a Massachusetts man, has been known to show up at Yankees games during his reign over the city, but doesn't really care either way. (The Times noted, "He is known to leave games in the third inning, clearly bored.") Bill Thompson, Anthony Weiner, and John Liu are all Mets fans, while Christine Quinn "dumped the Mets in a hot second" for her wife, a loyal Yankees fan.
But the warning signs about de Blasio were hiding in plain sight: In 2009, while he was a city councilman, the Times reported, "Mr. de Blasio and Erik Martin Dilan of Bushwick, Brooklyn, have had a running bet for six years. If the Red Sox win the American League East division, Mr. Dilan buys Mr. de Blasio a steak at Peter Luger Steak-house. If the Yankees win, Mr. de Blasio buys the steak." (He may be eating well this year.)
And yes, the Times added today, de Blasio "decided to raise his two children as Red Sox fans," so Dante and his Afro are a lost cause as well.