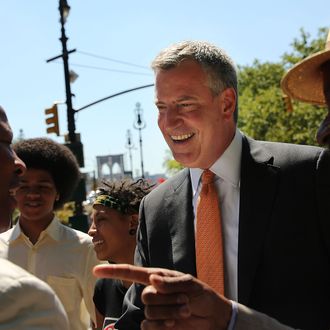 Photo: Spencer Platt/Getty Images
As if yesterday's federal court ruling on a crucial, controversial element of the Bloomberg era — the NYPD's use of stop-and-frisk — didn't give tonight's Democratic candidate debate enough electricity, along comes a new Quinnipiac poll anointing a new front-runner: Bill de Blasio. The current public advocate has been picking up momentum for the past several weeks, but today's numbers are nothing short of stunning, with de Blasio at 30 percent — the highest number for any candidate since Anthony Weiner joined the contest — Christine Quinn at 24, and Bill Thompson at 22. Weiner is down to 10 percent.
If you're in the de Blasio camp, these results are a vindication of the strategic focus on liberal voters who want a clear break from Mayor Mike; they are also a reward for several weeks of increasingly positive press coverage of de Blasio (including New York's recent profile, which pondered whether the six-foot-five-inch candidate was too tall to be mayor).
Quinn's allies shrug, naturally: It's merely one poll, showing an implausibly giant leap forward without any concurrent seismic event in the campaign or the life of the city — and besides, a Times poll four days ago showed Quinn with a significant lead, nine points over Bill Thompson and eleven over de Blasio. For Thompson, the steadiness of his numbers should be somewhat reassuring — as is the unlikelihood of two white candidates making the Democratic primary runoff. De Blasio will get an immediate boost and use it to try to consolidate the anti-Quinn/Bloomberg vote, but his Park Slope neighbors shouldn't start picking out inaugural-party-wear just yet: He's also about to get more scrutiny and draw more attacks from his rivals, probably as soon as tonight at seven on WABC.
All the candidates, however, know that this big swing shows there's still plenty of time and volatility ahead. One sign of the remaining uncertainty: Today's poll breaks down support by men, women, blacks, and whites — but doesn't measure the Latino vote, something all the campaigns are chasing hard, and that will be the latest breaking big demographic bloc.