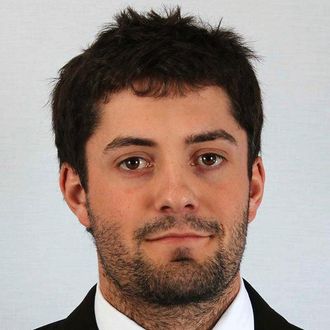 Christopher Lane, the victim.
Photo: Gina Smith/East Central University
Christopher Lane, a 22-year-old Australian man living in Oklahoma on a baseball scholarship, was shot and killed randomly while jogging in the town of Duncan, police said yesterday. Three teenagers — ages 15, 16, and 17 — are expected to face first-degree murder charges in court today after the oldest boy confessed. "They saw Christopher go by, and one of them said: 'There's our target,'" said local police chief Danny Ford. "The boy who has talked to us said: 'We were bored and didn't have anything to do, so we decided to kill somebody.'"
The teens reportedly left a post on Facebook reading, "Bang. Two drops in two hours," leading Ford to believe they planned a "killing spree." He added, "They wanted to be Billy Bob Badasses."
"He didn't deserve any of this," Lane's girlfriend Sarah Harper told the Australian Broadcasting Company. "It's heartbreaking that it was such a random choice those guys made that drastically altered so many lives in the process." As for the suspects, "Never heard of them, never met them," she said.
The mother of one of the kids told KOCO she doesn't believe the charges because of the time line. "They said it happened at 3 p.m.," she explained. "I get off of work at 3 and it just takes me five minutes to get to the house, and he was at home."
"My son is not that way," she said. "My son is a good kid."