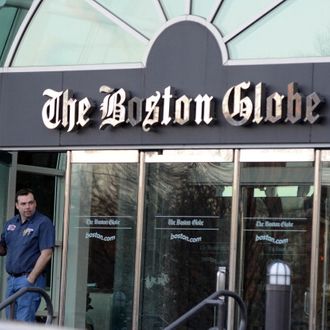 The New York Times may always be "the prettiest girl at the party," but the Boston Globe has turned out to be the hometown sweetheart that got away, at least for one man. As was rumored, John Henry, the principal owner of the Boston Red Sox, has purchased the 141-year-old newspaper after twenty years of Times Company ownership. Just this morning, Henry confirmed that he's entered into an agreement to buy the Globe for $70 million dollars. The Grey Lady's keepers purchased the Globe back in 1993 for $1.1 billion.
So, the Times Company has finally unloaded the Globe, which they've been trying to get rid of for a while, at a pretty big loss. Still, the Sulzberger clan  — which is currently doing quite well — now gets to focus on their flagship newspaper and can stop worrying about the diversified assets they scooped up back in the nineties. Meanwhile, Henry promised that the Globe is indeed the apple of his eye, telling the Times, "This is a thriving, dynamic region that needs a strong, sustainable Boston Globe playing an integral role in the community's long-term future." He added that we should be on the lookout for "announcements concerning those joining [him] in this community commitment and effort."
It's more than just Boston who's rejoicing the sale. Massachusetts Governor Deval Patrick called the paper "an American institution, and a vital source of information here in Massachusetts and across New England." As for Henry, Patrick said, "John Henry has already proven his dedication to the Commonwealth with his winning stewardship of the Boston Red Sox, and I have every confidence that he will bring that same level of excellence to this new endeavor."
The all-cash deal is expected to close in 30 to 60 days, according to the Times, though there's no word on how long it'll take the two papers to begin a baseball-level rivalry.
Update: Slate's Matt Yglesias points out that when you factor in the Globe's $110 million pension obligations, which John Henry is sticking to New York Times Company, "the worth of the overall Globe enterprise is negative $40 million, not $70 million."